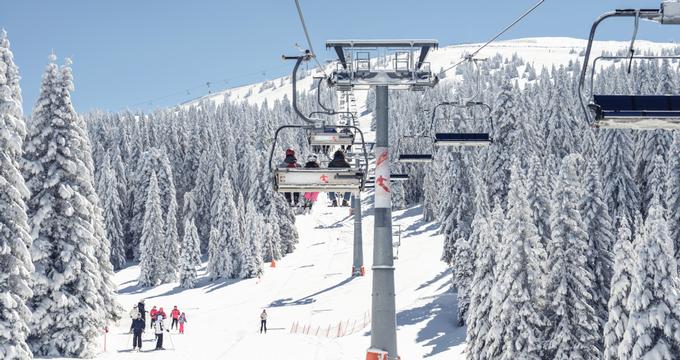 25 Best Family Ski Resorts in North America

Plan a family vacation to the Rockies or a quick weekend getaway to a ski resort near you in California, Vermont, New York and more.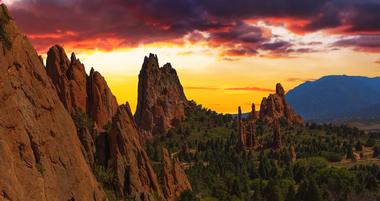 25 Best Things to Do in Colorado Springs, Colorado
From unique museums and famous attractions to great restaurants and tours, Colorado Springs is a great weekend destination.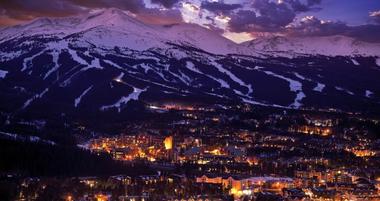 25 Best Things to Do in Breckenridge, Colorado
Breckenridge is a friendly mining town in the picturesque Rocky Mountains of Colorado.
Where to Travel Now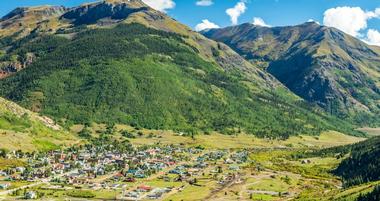 15 Best Things to Do in Silverton, Colorado
Silverton, Colorado, is what Wild West dreams are made of. Once a bawdy mining town teeming with brothels and saloons, it's now a tamed-down version of the same two-street town.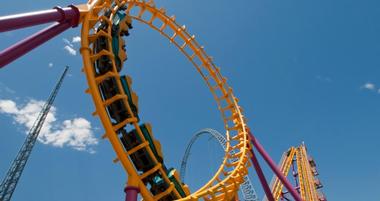 Best Amusement Parks Near Denver, Colorado
Denver is filled with things to do and places to go, including the many amusement parks we've listed below.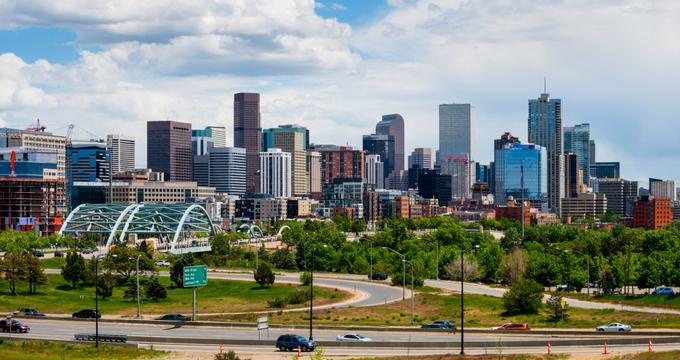 25 Best Denver Hotels for a Romantic Weekend Getaway
The Mile High City has transformed itself into an eclectic and cosmopolitan mix of neighborhoods with a culinary and artsy urban hub.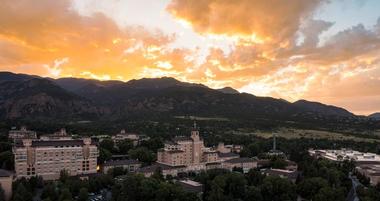 8 Best Romantic Getaways in Colorado Springs
Colorado Springs is famed for being the base of some of the most famous American mountain ranges.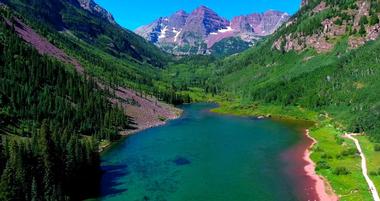 22 Best Things to Do in Colorado
Colorado contains most of the southern Rocky Mountains and is named for the powerful river that rushes through it.
More Feature Stories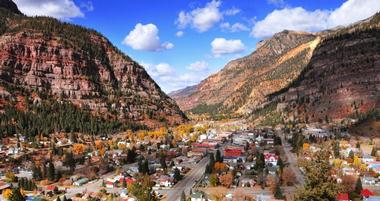 25 Best Things to Do in Ouray, Colorado
The small county of Ouray, located in southwest Colorado, has a population of barely more than a few thousand people.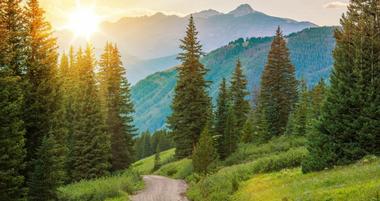 25 Best Hiking Trails in Colorado
Whether you are trying to bag the highest peaks in North America, enjoy solitude in the lush lodgepole pine and aspen forests, or take in open vistas of wildflower-covered meadows and waterfalls tumbling down steep cliffs, Colorado has a hike for you.
Weekend Getaways

Best Places to Visit in Colorado
With a diverse landscape composed of beautiful river canyons, arid deserts and the magical snow-covered Rocky Mountains, Colorado is one of the best destinations for outdoor enthusiasts, avid explorers and nature lovers. Colorado is situated on the western area of the United States and boasts breathtaking national parks like the Rocky Mountain and Mesa Verde National Parks. Eager visitors with other interests can also explore historic sites like the Ancestral Puebloan cliff dwellings or get to know the vibrant city areas like that of its capital, Denver, Aspen, Colorado Springs and more. No matter what your interest, there's bound to be something to enjoy in the in the Centennial State.
Denver
Often referred to as The Mile High City, Denver is Colorado's capital and largest city. At Denver, urban sophistication meets the great outdoors with attractions spanning all interests like arts and culture, sports and recreation, nightlife activities and family friendly activities. A visit to Denver's Union Station is a treat for architecture buffs while history lovers can relive the Old West or visit Buffalo Bill's grave at the Old West Attractions.
Tourists who want to get a glimpse of cool cars, airplanes, space vehicles and more can head to various area museums or even stop by the U.S. Air Force Academy. Other things to do in this exciting city include feeding giraffes at the Denver Zoo, standing exactly one-mile-high at the state Capitol or taking a long, leisurely stroll along the iconic 16th Street Mall.
Colorado Springs
There's no doubt that you'll never be short of things to do in Colorado Springs. With over 55 attractions in the area like museums, sprawling parks, zoos and more, there are all kinds of adventure for people looking for mild or wild experiences. Looking for outdoor thrills? Colorado Springs is one of the best places to do it. Marvel at the towering red rocks or set off down the winding trails at the Garden of the Gods Park or venture into the wonderful wildlife of the Cheyenne Mountain State Park.
Those looking for a challenge can take on hiking Pikes Peak or go on an adventure spree on one of over 25 hiking and biking trails in the area. For a great view and to experience over 950 kinds of animals, families should definitely pay a visit to the Cheyenne Mountain Zoo, the only mountain side zoo in the America, which sits 6,800 feet above sea level.
Aspen
There's no sight quite as beautiful as Aspen in the winter. Composed of four ski mountains, Aspen quickly became a world-renowned ski destination after its cultural renaissance in the 1940s. Some of Aspen's iconic destinations include Buttermilk Mountain, home to the Aspen X Games, the legendary Highland Bowl and Snowmass. Skiers of all levels can find slopes to match their abilities in these three areas.
With a gorgeous scenery and plenty of open space, trips to Aspen are also perfect for other winter recreation activities like cross-country skiing, fly-fishing, snowshoeing and hot-air ballooning. Aspen is equally beautiful and enjoyable in the summer with activities to match all kinds of outdoor ambitions. Go for a long hike or bike ride, challenge yourself while rock-climbing or indulge your inner adrenaline junkie while paragliding above Aspen's beautiful slopes.
Durango
Experience a dozen vacations all in a single destination at Durango. Situated in the southwestern region of Colorado, Durango is an ideal destination for family vacations, team building trips or group outings with friends. Outdoor enthusiasts can enjoy summer or winter recreation activities or visit national parks for a scenic hike. Vacationers can also explore Durango's heritage and historic sites like the Durango and Silverton Narrow Gauge Railroad or Fort Lewis College.
Adventurous travelers can feed their need for excitement on a jeep or dogsled tour along the rugged San Juan Mountains, or retrace the ancient footsteps of the Ancestral Pueblo people at the Mesa Verde National Park. Don't forget to immerse yourself in Durango's vibrant art scene at any of the city's art galleries.
Boulder
Known as "the city nestled between the mountains and reality", Boulder is an intriguing town that sits at 5,430 feet above sea level. The city is undeniably one of the most picturesque locations in the whole state of Colorado with the dramatic sandstone slabs of the Flatirons and the gorgeous snow-capped mountains cradling the area.
Find inspiration along the pine-scented trails that weave in and out of the city or go on a food adventure and taste the many flavors of the "Foodiest Town" in America. Beer lovers can even tour one of over 20 craft breweries that call the city home, while those seeking an immersive experience can simply soak up the laid-back lifestyle of the community at the historic Pearl Street. No matter what you plan to do, a vacation at the enchanting town of Boulder will undoubtedly be one for the books.
Greeley
Home to the University of Northern Colorado, Greeley is an easy drive northeast of Denver and was one of the first planned communities in the United States. The city was first set up as an agricultural development and thrived as the first successful irrigated farmland thanks to its location at the confluence of the Cache La Poudre and South Platte Rivers. Today, this small town in the Weld County enjoys a lively community of university students, long time agricultural residents and even jazz musicians.
Some of the town's most popular events include country's largest jazz festival, which takes place each spring, the AgriCulture Fest and Feast and the Greeley Stampede. Downtown Greeley also serves as a Colorado Certified Creative District and hosts monthly events like the First Friday Art Walk for locals and visitors alike. Other noteworthy attractions include the Centennial Village Museum, Forth Vasquez and the Colorado Model Railroad Museum.
Estes Park
Your gateway to the ultimate Colorado Rockies adventure, Estes Park is the perfect destination for outdoorsy travelers and those keen to see all the beauty that the Rocky Mountain National park has to offer. A trip to Estes Park comes several activities that will prove to be enjoyable no matter what your fitness level. Encounter real wildlife inside the park, trod along a wooded trail on snowshoes or enjoy a fantastic meal next to a cozy fireplace while enjoying the basecamp of the Rockies.
A vacation at Estes Park offers other outdoor activities in addition to an exploration of the Rockies. Visitors can head to destinations like the Cowpoke Corner Corral for some fun with the family or to the Estes Lake Bike Path to get some sightseeing and physical activity in. Looking for a place to recuperate from the physically draining activities? Get a massage at the Wellness Spa for some well-deserved rest and relaxation.
Breckenridge
A veritable winter wonderland, Breckenridge is a top skiing destination in the United States with slopes that stay perfect well into spring. In fact, Breckenridge, or Breck for short, has activities and adventure waiting no matter what time of the year. Being within close proximity to the mountain, backcountry and town, the only thing you'll have to figure out is how to fit all the activities into one vacation.
Apart from speeding down the snowy slopes of the mountain, travelers can also explore Breckenridge's extensive network of trails on horseback or on a bike. Several rivers nearby also provide the perfect setting for rafting and kayaking trips or a quick fly fishing excursion. Looking for more indoor fun? Head to the Breckenridge Arts District or join a historic tour like "Strange but True" or the "Wild West Tour".
Fort Collins
From tons of recreational activities to a wealth of cultural attractions, there's something for every traveler at Fort Collins. Visitors who are eager to explore the great outdoors can head straight to the Horsetooth Reservoir for challenging and enjoyable activities with a beautiful view. Meanwhile, avid eaters can craft their own foodie adventure at Fort Collins where rich culinary roots have resulted in the boom of a unique foodie scene. Don't forget to wash down the delicious food with the best beer in Colorado.
Beer isn't the only local craft that have visitors coming back time and time again. Fort Collins is also home to a local craft industry with entrepreneurs and craftspeople coming up with new products and treats to wow even the most discerning tastes. Make sure to visit the historic district of Fort Collins to see the architecture that inspired Disneyland's Main Street.
Golden
Home to Coors Brewery and the Clear Creek Trail among other attractions, Golden is a quaint town that makes a perfect weekend destination for busy families, couples, groups and solo travelers alike. The town has a wealth of attractions both indoors and outdoors, making sure that people of all interests have a great time. Perhaps one of the most popular things to do in Golden is to take a tour of the Coors Brewery, the largest single-site brewery in the world. Golden is also rich in history with several historic sites to visit in and around the area.
For those who want to get most out of Golden's outdoor activities, the Clear Creek Trail and Whitewater Park is a surefire way to have some fun. The Golden Gate Canyon State Park is equally fun with challenging trails and breathtaking views waiting to be discovered. Lookout Mountain, the Triceratops Trails and the North Table Mountain are also noteworthy locations to visit for some world-class recreation.
Grand Junction
At the confluence of the Colorado and Gunnison Rivers, Grand Junction offers picturesque views of Colorado's natural beauty and exhilarating outdoor adventures for adrenaline junkies and avid hikers. One of the most popular landmarks at Grand Junction is the Colorado National Monument, which features a unique series of red rock canyons and dramatic mesas. Another must-see are the Book Cliffs at the northern side of the Grand Valley wherein a gorgeous series of cliffs are bound to take your breath away.
Fans of country music will love paying a visit to the Country Jam Ranch, a permanent festival site built for multiple music festivals including the annual Country Jam. Alternatively, visitors can admire the work of local artists at several galleries at First Fridays. If you're ready to set off on the best of Grand Junction's mountain trails, head for the Tabeguache and Kokopelli Trails, which have also a favorite destination for mountain bikers.
Crested Butte
It's no secret that at its core, Crested Butte is a skiing haven thanks to a wealth of backcountry terrain. Winter brings a thick blanket of snow to Crested Butte, making it an ideal destination for snowboarding, alpine and cross country skiing as well as snowshoeing and ice skating. Visitors can even hop on a sleigh or horseback for a magical experience in a winter wonderland. However, just because the winter season will eventually come to an end doesn't mean that the fun and activities will.
Crested Butte makes a great vacation destination no matter what time of the year as it transforms into a mountain paradise when all the snow melts away. Recreational activities to enjoy include mountain biking, hiking, river rafting and kayaking. There are also easier activities like fishing and horseback riding for families traveling with younger children.
Louisville
Old and new blend together in the town of Louisville. Situated in booming technology corridor between Boulder and Denver, Louisville features a modern community that holds on to its roots through a historic downtown area. Truly, it's the historic part of town that bring many travelers to Louisville as new shops and restaurants set up shop in charming old town buildings located along the iconic Main Street. Those visiting during the summer can catch many outdoor concerts and bustling farmer's markets in Old Town, while more modern shops can be found at the Flatiron Crossing.
Near the outskirts of Louisville, avid golfers can enjoy the award-winning Coal Creek Golf Course which features a great view of the famous Flatiron peaks in Boulder. Cycling is also a favorite past time amongst locals as Louisville is home to 1,700 acres of rolling country roads in the northern part of town. Foodies ought to plan their visits in June when the Taste of Louisville event kicks off or simply make their way to a farmer's market for some tasty local fare.
Silverton
A small town nestled between the Red Mountain and Molas Mountain passes, Silverton offers a range of extreme to mild activities to all those who come for a visit. Adventure seekers will find plenty to occupy their time like the challenging mountain bike trails located around Silverton's old mining roads. Better yet, why not trade two wheels for four and hit the road at Hurricane Pass or the Alpine Loop Scenic Byway for an unforgettable four-wheel excursion? Hiking is also fantastic at Silverton with several trails to explore at the San Juan National Forest.
Traveling as a family? Make sure to visit Kendall Mountain during the winter for a vacation full of sledding, ice skating, snowshoeing and tubing. Ski trails for all levels are also available and easy accessible through multiple ski lifts with Silverton Mountain, Colorado's highest and steepest ski mountain, being the pinnacle of all ski trails in the state. After the excitement of the outdoors, make sure to stop by the National Historic District to see sites like the Old Hundred Gold Mine and the Mayflower Gold Mill National Historic Site.
Manitou Springs
There's just something about Manitou Springs that instantly takes your breath away. Situated between Pikes Peak and the Garden of the Gods, Manitou Springs boasts some of Colorado's best dining, shopping and recreation. As a mountain community, there are unique sites that make visiting Manitou Springs so special. There are, for instance, eight naturally carbonated mineral spring fountains situated throughout the town which are considered sacred by the Ute and Cheyenne among other Native American tribes.
Apart from the mineral springs, other attractions in Manitou Springs include a trip on the Manitou and Pikes Peak Cog Railway, which travels to the top of Pikes Peak, 14,115 feet above sea level. The Cave of the Winds allows visitors to step into the colorful belly of Colorado, while history buffs can travel back in time at the Cliff Dwellings Museum or the Miramont Castle. For those seeking a truly relaxing experience, a visit to the Garden of the Gods Nature Center is enough to instantly lift spirits.
Glenwood Springs
Soak away your stress, aches and pains at the soothing waters of Glenwood Springs. Millions of years of water have made Glenwood Springs what it is today, carving subterranean passages into Iron Mountain like those of the Glenwood Caverns. Waters at the Yampah Vapor Caves also have hundreds of years of history with the Ute Indians using the water in these caves to heal their bodies and minds. These days, visitors can also soak in these natural streams or enjoy the mineral hot springs found within.
Above these incredible cave formations, the Roaring Fork Valley offers once in a lifetime views, adrenaline pumping canyon swings and even roller coasters. Recreational activities typical to a vacation in the Rockies can also be taken advantage of such as hiking, biking and horseback riding. Travelers with a taste for adventure can zip line over vast forest land or go on a heart pumping skydiving excursion. Don't forget to hit the waters of the Colorado and Roaring Fork rivers for exciting rafting trips while you're at it!
Gunnison
There's no denying that Gunnison is home to a diverse community with college students, cowboys, entrepreneurs and engineers alike calling the town home. One thing the citizens of the town do have in common, however, is the ability to thrive in the harsh yet beautiful mountain environment of Gunnison. Truly, Gunnison is a town best suited for those who love to play in and explore the outdoors, with claims to fame like having the best fly-fishing and big game hunting in the country.
Snow sports like skiing, ice skating and hockey are absolutely fantastic during the winter while summers bring some of the most beautiful hiking trails and camping experiences in the Rockies. Bird watching is also a favorite past time in Gunnison with American Bald Eagles and Red Tailed Hawks frequently spotted in the area. Cycling at Gunnison is particularly good with long stretches of country road leading to amazing views of the Rocky Mountains.
Creede
Tucked into the side of the spectacular San Juan Mountains, the views don't get much more spectacular than they do in Creede. Even more interesting is the fact that the town is actually located within a former volcanic caldera. Thanks to its unique location, Creede is surrounded by fantastic cliffs, giving the area the small-town feel that visitors love and know so well. The location also makes Creede a town for sports fishing, rafting, hiking and mountain biking. When winter rolls around, the terrain is ideal for cross-country skiing, sledding and other winter sports.
With infrastructure dating back to the 1890s still standing in Creede, a trip to the historical part of town is highly recommended by locals and frequent visitors alike. Some of the best sites to visit include the Creede Historical Museum and the Underground Mining Museum. The Silver Thread Scenic and Historic Byway is a breathtaking area to visit as provides a clear view of Clear Creek Falls. Meanwhile, the formations at the Wheeler Geologic Area are equally fascinating.
Cripple Creek
Reminiscent of the Old West, Cripple Creek has an interesting past as a historic gambling and mining town. Many still refer to Cripple Creek as the place where gamblers and hooligans still find their happy place as the town is home to nine innovative casinos. In addition to the casinos, Cripple Creek boasts several fantastic restaurants, tons of shopping and luxury hotels. While gamblers from near and far try their luck at poker, black jack, the slot machines and more, other visitors can explore other attractions the town has to offer.
Hiking is a great way to fully take in the beauty that Cripple Creek has to offer with trails heading in and out of the Pike National Forest. Mountain biking is a favorite local past time and easy trails can be easily explored by visitors as well. Other means of exploring Cripple Creek include taking a 4-wheel drive jeep, going rafting along the rivers or going on a horseback ride. Visitors can also look forward to Nature Watching Wildlife and events like the Donkey Derby.
Georgetown
With a population of just a little over 1,000 residents, Georgetown is one of the smallest towns in Colorado. Despite the relatively small population size, Georgetown receives hundreds, if not thousands, of visitors during weekends and holidays. As one of Colorado's early mining towns, there are many historic areas in the area to explore like the Georgetown-Silver Plume National Historic Landmark District. Another major attraction is the Georgetown Loop Railroad which takes passengers on a round-trip journey to the Silver Plume.
For travelers who want to learn more about the past of Georgetown, a visit to the hotel cum museum, Hotel de Paris, is in order. The Hamill House Museum is another spot to visit as it is home to well preserved rooms that showcase how the upper crust of society lived. To taste the cuisine unique to Georgetown, visitors can visit the Dusty Rose Team Room, while people eager to explore the outdoors can hike to the 11,600-foot summit of the Guanella Pass Scenic Byway.
Ouray
Looking for your next great winter adventure? Look no further than Ouray, the land of Ice and steam, for an incredible vacation no matter what time of the year. Though Ouray is great to visit at any season, it is best known for its winter activities. When snow blankets the town and the blue glow from the Ouray Ice Park settles over the area, locals and tourists alike head for the famous sulfur-free hot springs and pools for a relaxing dip. Enjoying a winter soak at Ouray's hot pools is actually a century old past time that continues to be enjoyed to this day.
When you're ready to embark on an ice adventure, try your hand at Ouray's official winter sport: ice climbing. If that's not your cup of tea, hit the ski slopes of Ironton Park and enjoy peace and quiet on the spacious Nordic trails. Better yet, learn about Ouray's history while touring one of the many ghost towns in the area on a Snowshoe Tour. No matter what you decide to do while in town, you can be certain of a memorable experience at Ouray.
Telluride
Tucked into a box canyon and cradled in the midst of 13,000 to 14,000-foot peaks of the surrounding mountain ranges, the quaint town of Telluride provides visitors with a unique alpine experience. Telluride is actually easily explored since the whole town is just twelve blocks long and eight blocks wide. Despite being relatively small, Telluride offers larger than life activities, like fantastic skiing and snowboarding, as one of Colorado's top mountain villages.
Telluride, interestingly, also has a rich and significant role in the history of the American West and was designated as a National Historic Landmark District in 1964 and are eligible to become national parks. Explore this side of Telluride through the many Victorian-era homes, boutiques, clapboard storefronts around town or visit art galleries and restaurants housed in historic buildings.
Trinidad
Sitting just a few miles north of the New Mexico border, Trinidad has come a long way from its humble beginnings in the 1800s. Early on in its history, Trinidad was a stop along the Santa Fe Trail and was home to traders, early ranchers and trappers. Today, Trinidad retains many of its old town charm but now harnesses its natural beauty and inherent traits to attract tourists. History lovers can get to know all about Trinidad's pre-history at the Louden-Henritze Archeology Museum or learn about its more recent history at the Trinidad History Museum, the Baca House and Bloom Mansion.
Home to the Trinidad Lake State Park and some of the Comanche National Grassland, Trinidad is also a great destination to enjoy recreational activities outdoors. The state park, for example, offers camping, hiking, fishing, boating and even an archery range, while the grasslands boast one of North America's largest known dinosaur track sites. The art community in Trinidad is also continuously growing with the Corazon de Trinidad having been designated as a Certified Colorado Creative District.
Buena Vista
Sitting at the food of the Continental Divide, Buena Vista certainly lives up to its name, which translates to "good view". The view that surrounds Buena Vista is composed of more than 10 mountains in the area and their 14,000 foot peaks. These mounts include those of Columbia, Princeton, Yale and Harvard and inspired the name for the new byway called the Collegiate Peaks Scenic and Historic Byway.
Apart from typical mountain activities such as hiking, mountain biking, cross country skiing and four-wheeling, Buena Vista is also considered by many adventurers to be the whitewater rafting capital of the United States. Most rafting trips go through the Arkansas River, which takes participants through the Browns Canyon National Monument. After all the excitement, settle into one of the hot springs at Mount Princeton to complete the overall experience.
Pagosa Springs
Generally referred to as one of Colorado's last undiscovered gems, Pagosa Springs is home to magnificent hot springs, an abundance of sunshine and a small town feel that will instantly make every traveler feel at home. Summer is the best time to visit Pagosa Springs with more than 3 million acres of surrounding wilderness and national forest areas providing the ideal setting for your vacation. Set off on one of many serene and scenic forest trails on foot, by bike or on horseback.
Travelers who prefer watersports will be kept fully entertained by the 2-mile stretch of the San Juan River that runs through town. At the river, rafting and kayaking excursions are held regularly, while daredevils can opt to tube down the faster portions of the river. Streams and lakes are great locations for fishing while the nearby Navajo State Park has a lake that is perfect for boating and water skiing.
Top