Plan a weekend trip to Florida to relax on white-sand beaches, play golf and get massages at the spa. The hotels that made our list offer exceptional service, great food and a choice of things to do. We've included ideas for a range of budgets, in line with our philosophy that there is a great vacation out there for everyone. Kids can participate in age-appropriate activities, learn to play tennis and swim. Plan a romantic trip, an anniversary celebration or a family vacation to one of these unique properties in Florida.
Don't miss out: Join us! - our best ideas in your Inbox.
»

PGA National Resort & Spa - 1 hour 15 minutes from Miami
[PGA National Resort & Spa]
PGA National Resort & Spa is famous for its five championship golf courses where you can play some of the best golf in the U.S. The resort recently completed a multimillion-dollar renovation of its guest accommodations, the outdoor pool area, restaurants and the spa. Plan a romantic trip or bring the whole family for a weekend of fun and relaxation. Guest rooms and suites each come with a private balcony or terrace, letting you enjoy the best of outdoor living. Luxury amenities include a 42-inch LCD HD TV, sitting area and a plush bathroom. Junior Suites are a good option for families who want more space and good value. The 1,017-square-foot PGA suite features a pool table, dry bar and three balconies which overlook the Fazio driving range. The Legends Suite has spectacular views of the pool and lake. If you like getting massages in the privacy of your own room, request one of the Spa Suites which have a treatment area with a leather massage table. These suites are closest to the spa, its mineral pools, saunas and relaxation lounges. Club cottages are a great idea for a family vacation or a golf trip with friends, offering plenty of privacy, two bedrooms, two bathrooms, a spacious living room, kitchen, washer/drier and an outdoor terrace.
Of the resort's 5 golf courses, the Champion is the most famous, home of the Honda Classic, a famous PGA event which takes place in February. The Fazio course was newly renovated in 2012. The PGA National Golf Academy is the place to get advice from the pros and make sure you have the right clubs by visiting the Club Fitting Lab. Kids have access to junior golf camps during certain times of the year. The resort is near beautiful sandy beaches. Dine at Ironwood Steak & Seafood, one of the finest restaurants in South Florida, serving contemporary American cuisine accompanied by fine wine. iClub Piano Bar offers live entertainment and is the perfect place for after dinner drinks. Palm Terrace by the pool serves a delicious buffet breakfast. Rooms start at $256 per night (website).
You may also like: 17 Best Things to Do in Orlando.
»

Innisbrook Resort - 35 minutes from Tampa
[Innisbrook Resort]
Innisbrook Resort near Tampa is the site of PGA Tour's Transitions Championship. The property has 608 guest rooms and luxury suites, a new 18,000-square-foot spa, and a selection of restaurants. The property offers 11 tennis courts, 6 swimming pools, water slides, children's activities and a choice of sports. There is plenty to do for the whole family. Indaba Spa has soothing men's and women's relaxation rooms, steam rooms and whirlpool baths. Treat yourself to a massage after a round or while the kids are busy zooming down the waterslide. Rooms start from $129 per night (888-794-8627, website).
You may also like: 15 Best Florida Island Vacations.
»

The Hotel Zamora - 35 minutes from Tampa
[The Hotel Zamora]
The Hotel Zamora is the newest hotel in St. Pete Beach on Florida's west coast, featuring Mediterranean-style architecture and rooms with water views. Luxuries include walk-in spa showers, soaking bathtubs and plush bathrobes which invite you to relax and rejuvenate on your trip. Ask for a balcony with a view of the Gulf of Mexico or the Intracoastal waterway where you can have a romantic breakfast in the morning. Castile Restaurant has a beautiful outdoor terrace with ocean views and serves contemporary cuisine with Spanish, Mexican and Mediterranean influences. The terrace is a popular spot for cocktails in the evening. During the day, relax on white sandy beaches, visit local cafes or take a trip to Tampa just across the bay. Rooms start at $195 per night (website).
You may also like: 20 Best Things To Do in Miami.
»

Villas of Grand Cypress in Orlando
[Villas of Grand Cypress]
The Villas of Grand Cypress is a luxury getaway in Orlando. The hotel offers 45 holes of Jack Nicklaus Signature-designed golf and is adjacent to Walt Disney World where you can take your family for fun in the sun. The property offers spacious AAA Four-Diamond Villas with spectacular views of the waterways or fairways of the North Course. Guest accommodations feature private terraces, high-speed Internet access, and a large-screen flat-panel television. There are two pools, both with waterfalls and one with two waterslides for kids. The Academy of Golf is one of the best places to learn to play in Florida. The 21-acre facility is equipped with the latest state-of-the-art technology which is used to analyze and improve your swing. Rates start from $535 per night (407-239-4700, website.
You may also like: 25 Best Things to Do in Key West, Florida.
»

One Ocean Resort in Florida - 25 minutes from Jacksonville
[One Ocean Resort]
Located in Atlantic Beach, One Ocean Resort is a stylish getaway with a spa and a gourmet restaurant. The resort's 193 rooms and suites feature modern decor, a 42-inch LCD entertainment center, and ocean views from their floor to ceiling windows. If you like to wake up early, watch a spectacular sunrise from one of the Superior Balcony Oceanfront Rooms which offer private balconies facing the ocean. The spa offers luxury treatments inspired by the sea. Book one of the VIP suites and spoil yourself with a day at the spa on your weekend trip to Florida. A light spa lunch menu is available to spa guests. The beach resort Azurea restaurant serves gourmet meals in an elegant setting. Rooms start at $210 per night. Look for golf and spa specials which are frequently available, especially during off-peak times (oneoceanresort.com).
You may also like: 25 Best Things to Do in St. Augustine, Florida.
»

Bayfront Westcott House B& B in St Augustine - 45 minutes from Jacksonville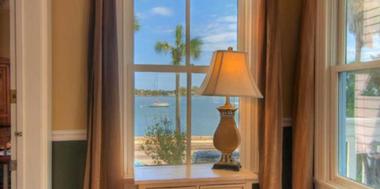 [Bayfront Westcott House B& B]
Bayfront Westcott House B& B offers a selection of romantic rooms, some with water views. Victoria is a great room to book on a romantic getaway because you will be able to have breakfast on your private balcony in the morning overlooking the bay. Rebecca is another great room featuring a unique configuration with a double Jacuzzi and a walk-in shower with dual shower heads. There is plenty to see and do in St Augustine, from music festivals to wine tasting and boat shows. Rooms start at $149 per night (website).