September is a great time to go on vacation - you will find fewer crowds and great deals in many popular destinations. Whether you are dreaming of a quick weekend getaway or a longer vacation to a sandy beach, our list of Top 20 will give you plenty of ideas. Be sure to check out or fall foliage watching ideas in September and October.
»

El Encanto in Santa Barbara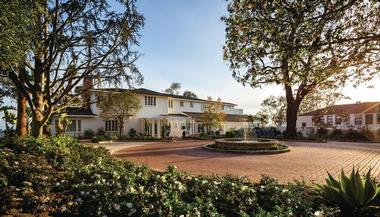 The theme at the iconic El Encanto in Santa Barbara is romance and the idea is to create a luxurious retreat where couples come to rejuvenate for a weekend of great food, privacy and spa treatments. The property has 92 unique suites and bungalows surrounded by lush gardens and ocean views. Guests get to relax on their private patio, luxuriously furnished, and next to the indoor fireplace.
California coastal cuisine is served in the restaurant which offers romantic coastal views. Indoor and terrace seating is offered. The Wine Room is available for private parties, while the Lounge serves light meals and Afternoon Tea. The spa incorporates local flora into seasonal treatments that make you feel pampered from head to toe. The Fitness Studio features a variety of core, Pilates, yoga and strength training classes. Nightly rates start at $425 USD (805 845 5800, 800 393 5315, website).
»

Hawaiki Nui Hotel
Raiatea Hawaiki Nui Hotel is located on the island of Raiatea, 120 miles northwest of Tahiti in French Polynesia. The island is home to beautiful white-sand beaches surrounding a calm lagoon with azure waters that links Raiatea with Tahaa. Spend your days next to the freshwater swimming pool, relax in your Polynesian-style bungalow, and try different activities, ranging from scuba diving and snorkeling to horseback riding and botanical garden tours. Dive sites include colorful coral reefs and old shipwrecks.
The staff can help you arrange a sailing or fishing charter if you want to explore the nearby islands on your honeymoon. You can also take an excursion to Tahaa and visit a pearl farm, take a helicopter ride to get an aerial view, or observe marine life from a glass bottom boat. There are 28 traditional guest rooms, including 9 overwater bungalows with a veranda and direct access to the lagoon. All rooms have TVs, ceiling fans and telephones. Ask for one of the overwater bungalows for added romance. The restaurant serves seafood dishes with a view of the pool. Fly to Tahiti and then catch a connecting flight to Raiatea. Rates start at US $240 per night; from $380 for overwater bungalows (+689 60 05 00, 800-65-PEARL, website).
»

Villa La Diouana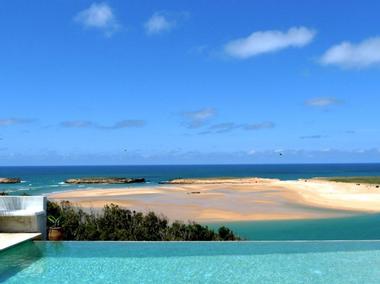 Once you are done exploring the busy Marrakech, drive to the beautiful Atlantic coast of Morocco and rent Villa La Diouana in Oualidia. A hammock swaying under a tree, lounge chairs by the pool and beautiful starry nights will make you forget about the hurried life you left behind. The villa has three badrooms, a separate cottage and an apartment. If you are traveling with a bigger group and need more space, consider renting all three. The luxury villa is furnished in modern style with traditional Moroccan touches such as woodwork and polished plaster floors. The living room has WiFi and a wood-burning stove. There is a library, patio and a roof-top terrace overlooking the garden with trees and flowers such as oleander, pine and mimosa. Oualidia is a small coastal village on the Atlantic coast of Morocco, a three-hour drive from Marrakech. Activities include bird-watching, boating and relaxing in the sun. The property (www.33degreeslatitude.com) rents from GBP 1,300 per night.
»

La Lancha Hotel in Guatemala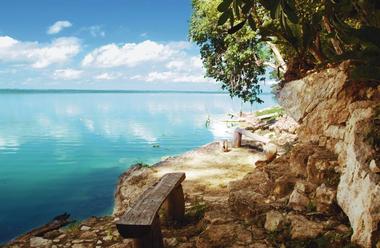 La Lancha Hotel is a lakeside getaway surrounded by a lush rainforest in Guatemala. The hotel overlooks lake Peten Itza and is near historic Mayan ruins which consist of 3,000 structures, ancient temples and plazas. The property has an outdoor pool and an open-air restaurant with spectacular rainforest and lake views.
Guests are accommodated in Rainforest and Lakeview cottages with hammocks and Guatemalan and Balinese furnishings. Ask for a view of the lake, especially if you are planning a romantic getaway. You will be able to have breakfast overlooking the water and relax in a hammock with a view. Luxury cottage amenities include organic, locally sourced, handmade toiletries, plush bathrobes and a shellphone for communicating with reception. Lago Peten Itza is the second largest lake in Guatemala. Complimentary canoes are available to guests. Once you are done exploring The Maya ruins of Tikal, relax by the split level pool with a view. Many exotic birds and howler monkeys can be seen on the property. Go on a guided horseback ride on the adjacent 70-acre farm. Cottages at the hotel start from $125 per night. Children under 12 eat for free at any of the restaurants. Children ages 12 - 18 receive a 50% discount on all meals.
»

La Mamounia in Marrakesh
La Mamounia in Marrakesh is a glamorous hotel which has attracted many famous guests, including Winston Churchill, Franklin D Roosevelt, Alfred Hitchcock and Charlie Chaplin. The hotel was recently renovated, preserving its trademark look from the 1920s. The property is set on 17 acres with century-old gardens and a large outdoor pool. Choose from 210 guest rooms, including 71 luxury suites. Guest accommodations overlook city rooftops, gardens and the Atlas mountains in the distance. These rooms and suites are among the most spacious in Marrakesh. Ask for a private terrace with scenic city views.
The luxurious 27,000 square foot spa offers extensive facilities for relaxation and rejuvenation. Facilities include traditional Hammam, beautiful indoor pool, saunas, steam rooms and a beauty salon. Inside the spa you will find black and white traditional Moroccan tiling and a calm ambiance. There are four restaurants serving Moroccan, French and Italian dishes. Room rates at the hotel start at $475 USD per night.
»

Jardin Escondido
Jardin Escondido is Francis Ford Coppola's getaway in in Buenos Aires, Argentina. When the famous film director is not in town, the retreat is available for rent, either as a whole house or a room. The hotel is located in Palermo Soho next to many shops, galleries and restaurants. The house has three levels of gardens, an outdoor kitchen and parrilla, and a beautiful terrace surrounded by a garden. Facilities include meeting rooms, a flat screen TV entertainment center and a collection of classic films. The on-call sommelier can help you with all your wine requests, including some of the top Argentinian wines. Guests are accommodated in four master bedrooms, two double bedrooms and a single bedroom. There is a full-time housekeeper and an English-speaking concierge. Enjoy a unique authentic breakfast or brunch, Sunday asados and fresh flowers (coppolajardinescondido.com).
»

Water Park at Las Casitas Village in Puerto Rico
Las Casitas Village is an oceanfront resort in Puerto Rico, a part of the Waldorf Astoria Resort collection known for luxury service. This family-friendly resort is comprised of 150 private villas with fully equipped kitchens, giving families the flexibility to prepare their own meals. Guests have access to 24-hour personalized butler service during their stay. Coqui Water Park (tickets are $12.95 for adults and $8.95 for kids) offers water fun for everyone, from a lazy river and a rope bridge to many slides and pools. There is a small slide for kids, a body slide, tube slide and a speed slide. The lazy river is a fun ride for children.
The main pool measures 8,500 square feet, with an infinity edge and a 25,000+ square foot pool deck for sunbathing. Oasis Bar & Grill makes it easy to grab lunch without leaving all the fun. Palomino Island, a quick ferry boat ride away, is a private island and beach for Las Casitas Village. You can go snorkeling, windsurfing, kayaking, sailing, play miniature golf or go hiking. The property offers shops, wedding planning and many activities. Villa rates start at $309 per night.
»

Olare Mara Kempinski, Masai Mara Camp
Olare Mara Kempinski, Masai Mara is a luxury adventure camp in the Olare Orok Conservancy known for its lion population, the world's largest. Guests will be surrounded by diverse wildlife, including two million wildebeest and zebras. Guests are accommodated in just a dozen luxury tents furnished with four poster or twin beds, outdoor and indoor showers and a huge teak deck. The claw foot bathtubs are perfect for relaxing after a day of exploring the wilderness. One of the tents has its own plunge pool, perfect for a honeymoon.
A diverse range of activities is offered, including game drives, incredible night safaris, balloon rides, local village visits and more. Kempinski recommends at least a 3-night/4-day stay to fully explore the area and relax at this five star camp. Rates are all inclusive and start at $435 per night per person (double occupancy). The rate includes airstrip transfers, full board including beverages, two game drives per day and conservancy fees. The property is a one hour flight from Nairobi and 90 minutes from Mombasa in Kenya, located on over 300,000 acres. Serengeti National Park lies to the south.
»

9 Beaches
9 Beaches is a casual beach getaway in Bermuda with affordable hillside and over-water cottages. The hotel named after the number of beaches you get to choose from nearby. Head out early in the morning and you'll feel like you have the island all to yourself. Enjoy scenic views, romantic walks on the beach and unique accommodations on stilts. If you prefer to be on solid land, book one of the hillside accommodations. The hotel offers an array of water sports, including kayaking, snorkeling, sailing and scenic tours. The restaurant at the resort serves mouthwatering dishes inspired by the ocean. Cottages start at $205 USD per night.
»

Hilton Shillim Estate Retreat and Spa in India
Hilton Shillim Estate Retreat & Spa is Hilton Hotels & Resorts first leisure property in India. The estate is a 2.5-hour drive and 30-minute helicopter ride from Mumbai. All-villa accommodations have butler service, one of the largest wine cellars and an ultra-luxurious spa. The spa itself is set on 70 acres and offers more than 150 treatments, making it one of the best spas in Asia. Ultra-luxury guest villas offer guests plenty of privacy. Each villa comes with private decks or balconies, dedicated treatment areas and valley or forest views. Interiors are contemporary with cutting edge technology. The Spa Pool Villas and Presidential Pool Villas are the most luxurious with their private gardens and swimming pools.
Shillim Spa combines the healing traditions of South Asia with contemporary offerings. Practice yoga in the dedicated Yoga Pavilion, find your center in the Meditation Cave and have healthy meals at the restaurant. Swim in the heated outdoor pool and detox in the sauna and steam rooms. Guests are welcome to participate in workshops and courses at the Shillim Institute dedicated to conserving the natural and cultural heritage of the Western Ghats. Introductory rates at the hotel start at $420 USD per night.
More September Vacation Ideas
If you've always dreamed of a trip to Hawaii, September is the perfect time to go. You will be able to enjoy warm weather, sandy beaches and many activities. The Sheraton Kauai Resort is located on Kauai's South shore, featuring ocean views and a sandy beach. The Fairmont Kea Lani Maui is an all-suite getaway where you can play golf, visit the spa and relax on the sandy beach.
The Caribbean islands are off season in September as well, although unlike in Hawaii, in the Caribbean you will have to watch out for hurricanes. Crystal Cove in Barbados has a sandy beach and offers many complimentary activities such as sailing, kayaking and windsurfing. Colony Club has colonial-style guest rooms and a unique system of freshwater pools.
Sonoma Valley is a popular fall destination, offering great food, wine and scenery. There are many hotels with spas which let you relax and unwind on your getaway, including MacArthur Place and The Fairmont Sonoma Mission Inn.
Visit Vancouver, British Columbia and stay at The Fairmont Hotel Vancouver which has a pool, a whirlpool, children's wading pool and two saunas.
The Greek islands tend to be fully booked in the summer, but in September they get quiet and more affordable. The weather is warm so that you can swim and sunbathe without the crowds. Santa Marina Mykonos. This romantic hotel has a private bay, a full service luxury spa, and panoramic views of the ocean. If you want complete seclusion, take one of the hotel's two smaller speedboats to a nearby beach. The hotel has a private yacht (a Ferretti 761) if you really want to get out and explore the islands. To top it all off, they also have a private jet that can fly you to the hotel (for a fee). However, since it's your honeymoon, the beach, the pool, and the spa should be provide you with more romance and relaxation then you can handle.
The Cocoon Spa at Vedema in Santorini, Greece, is a spa getaway which combines immaculate service with a wide array of traditional therapies, all of which are aimed at rejuvenating the weary traveler. If you are in need of a total head-to-toe treatment, the Cocoon Spa offers many luxury full body treatment options to try. The spa has a fully equipped fitness center, sauna, and Turkish bath. To help you get over the symptoms of jet-lag try the "Balancing Act" treatment, a full 90 minute aromatherapy treatment with a exfoliating dry brushing, a nurturing face mask, and an essential oil massage.
The Spa at the Westin Puerto Vallarta in Mexico offers treatments that can help you relax. The spa is a member of the Starwood Spa Collection, offering nine indoor treatment rooms and two treatment huts right on the sandy beach. Stay active on your trip by working out in the gym powered by Reebok, hire a personal trainer or join a fitness class such as yoga, Pilates and dancing. The resort offers luxury accommodations, a sandy beach and four pools.
The Estrella Spa at the Viceroy Palm Springs is a luxury spa getaway in Southern California. The spa offers indoor and outdoor treatments in a serene setting. Guests can choose from an extensive menu of whole body massages, facials, body treatments, botanical baths, as well as luxury spa treatments designed especially for men. For those who like to receive their services out in the open air, the Estrella Spa offers poolside massages, manicures and pedicures. Depending on what you are looking for, the spa offers packages that combine massage, scrubs, facials, foot treatments and acupressure. The Mother to Be Package includes pre-natal massage, a facial and a pedicure.