September is a great time to go on vacation - you will find fewer crowds and great deals in many popular destinations. Whether you are dreaming of a quick weekend getaway or a longer vacation to a sandy beach, our list of Top 20 will give you plenty of ideas. Be sure to check out or fall foliage watching ideas in September and October.
Don't miss out: Join us! - our best ideas in your Inbox.
»

El Encanto in Santa Barbara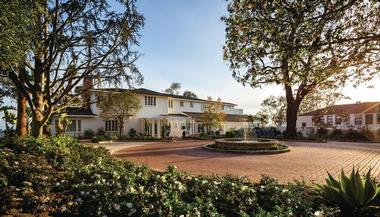 The theme at the iconic El Encanto in Santa Barbara is romance and the idea is to create a luxurious retreat where couples come to rejuvenate for a weekend of great food, privacy and spa treatments. The property has 92 unique suites and bungalows surrounded by lush gardens and ocean views. Guests get to relax on their private patio, luxuriously furnished, and next to the indoor fireplace.
California coastal cuisine is served in the restaurant which offers romantic coastal views. Indoor and terrace seating is offered. The Wine Room is available for private parties, while the Lounge serves light meals and Afternoon Tea. The spa incorporates local flora into seasonal treatments that make you feel pampered from head to toe. The Fitness Studio features a variety of core, Pilates, yoga and strength training classes. Nightly rates start at $425 USD (805 845 5800, 800 393 5315, website).
»

Hawaiki Nui Hotel
Raiatea Hawaiki Nui Hotel is located on the island of Raiatea, 120 miles northwest of Tahiti in French Polynesia. The island is home to beautiful white-sand beaches surrounding a calm lagoon with azure waters that links Raiatea with Tahaa. Spend your days next to the freshwater swimming pool, relax in your Polynesian-style bungalow, and try different activities, ranging from scuba diving and snorkeling to horseback riding and botanical garden tours. Dive sites include colorful coral reefs and old shipwrecks.
The staff can help you arrange a sailing or fishing charter if you want to explore the nearby islands on your honeymoon. You can also take an excursion to Tahaa and visit a pearl farm, take a helicopter ride to get an aerial view, or observe marine life from a glass bottom boat. There are 28 traditional guest rooms, including 9 overwater bungalows with a veranda and direct access to the lagoon. All rooms have TVs, ceiling fans and telephones. Ask for one of the overwater bungalows for added romance. The restaurant serves seafood dishes with a view of the pool. Fly to Tahiti and then catch a connecting flight to Raiatea. Rates start at US $240 per night; from $380 for overwater bungalows (+689 60 05 00, 800-65-PEARL, website).
»

Villa La Diouana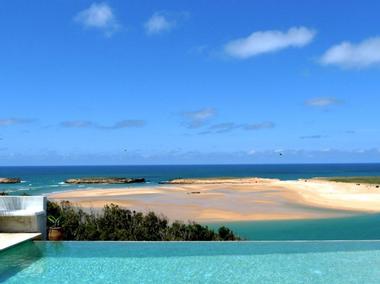 Once you are done exploring the busy Marrakech, drive to the beautiful Atlantic coast of Morocco and rent Villa La Diouana in Oualidia. A hammock swaying under a tree, lounge chairs by the pool and beautiful starry nights will make you forget about the hurried life you left behind. The villa has three badrooms, a separate cottage and an apartment. If you are traveling with a bigger group and need more space, consider renting all three. The luxury villa is furnished in modern style with traditional Moroccan touches such as woodwork and polished plaster floors. The living room has WiFi and a wood-burning stove. There is a library, patio and a roof-top terrace overlooking the garden with trees and flowers such as oleander, pine and mimosa. Oualidia is a small coastal village on the Atlantic coast of Morocco, a three-hour drive from Marrakech. Activities include bird-watching, boating and relaxing in the sun. The property (www.33degreeslatitude.com) rents from GBP 1,300 per night.
»

La Lancha Hotel in Guatemala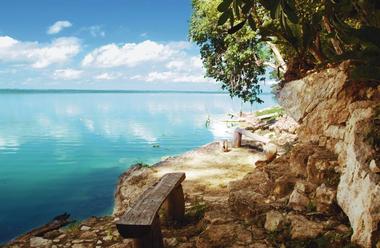 La Lancha Hotel is a lakeside getaway surrounded by a lush rainforest in Guatemala. The hotel overlooks lake Peten Itza and is near historic Mayan ruins which consist of 3,000 structures, ancient temples and plazas. The property has an outdoor pool and an open-air restaurant with spectacular rainforest and lake views.
Guests are accommodated in Rainforest and Lakeview cottages with hammocks and Guatemalan and Balinese furnishings. Ask for a view of the lake, especially if you are planning a romantic getaway. You will be able to have breakfast overlooking the water and relax in a hammock with a view. Luxury cottage amenities include organic, locally sourced, handmade toiletries, plush bathrobes and a shellphone for communicating with reception. Lago Peten Itza is the second largest lake in Guatemala. Complimentary canoes are available to guests. Once you are done exploring The Maya ruins of Tikal, relax by the split level pool with a view. Many exotic birds and howler monkeys can be seen on the property. Go on a guided horseback ride on the adjacent 70-acre farm. Cottages at the hotel start from $125 per night. Children under 12 eat for free at any of the restaurants. Children ages 12 - 18 receive a 50% discount on all meals.
»

La Mamounia in Marrakesh
La Mamounia in Marrakesh is a glamorous hotel which has attracted many famous guests, including Winston Churchill, Franklin D Roosevelt, Alfred Hitchcock and Charlie Chaplin. The hotel was recently renovated, preserving its trademark look from the 1920s. The property is set on 17 acres with century-old gardens and a large outdoor pool. Choose from 210 guest rooms, including 71 luxury suites. Guest accommodations overlook city rooftops, gardens and the Atlas mountains in the distance. These rooms and suites are among the most spacious in Marrakesh. Ask for a private terrace with scenic city views.
The luxurious 27,000 square foot spa offers extensive facilities for relaxation and rejuvenation. Facilities include traditional Hammam, beautiful indoor pool, saunas, steam rooms and a beauty salon. Inside the spa you will find black and white traditional Moroccan tiling and a calm ambiance. There are four restaurants serving Moroccan, French and Italian dishes. Room rates at the hotel start at $475 USD per night.
»

Jardin Escondido
Jardin Escondido is Francis Ford Coppola's getaway in in Buenos Aires, Argentina. When the famous film director is not in town, the retreat is available for rent, either as a whole house or a room. The hotel is located in Palermo Soho next to many shops, galleries and restaurants. The house has three levels of gardens, an outdoor kitchen and parrilla, and a beautiful terrace surrounded by a garden. Facilities include meeting rooms, a flat screen TV entertainment center and a collection of classic films. The on-call sommelier can help you with all your wine requests, including some of the top Argentinian wines. Guests are accommodated in four master bedrooms, two double bedrooms and a single bedroom. There is a full-time housekeeper and an English-speaking concierge. Enjoy a unique authentic breakfast or brunch, Sunday asados and fresh flowers (coppolajardinescondido.com).