Relax on a sandy beach in the Caribbean, admire the holiday decorations in New York City, or take a longer trip to Australia and New Zealand in the Southern Hemisphere to find summer in the middle of winter. Avoid the holiday travel rush by scheduling your vacation during the first ten days of December, or book months ahead of time if you plan to visit the popular vacation destinations during the peak times. Remember to call ahead and reserve spa treatments, golf tee times and other activities as well.
Don't miss out: Join us! - our best ideas in your Inbox.
»

Hotel Christopher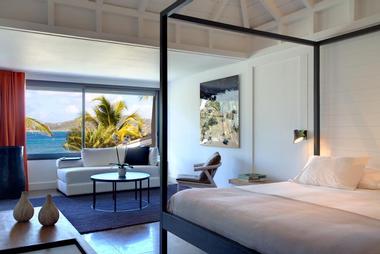 [Hotel Christopher]
Spend your getaway on the ocean's edge in St Barth at the romantic Hotel Christopher. Start your days with a quick workout followed by a breakfast overlooking the Caribbean Sea. The hotel is a perfect choice for couples who like elegant modern decor, great service and a calm setting. The free-form ocean-front pool provides a beautiful setting for relaxing days in the sun. At Spa Sisley, you can get treatments with stunning views of the ocean. Couples can receive a side-by-side massage right next to the water while listening to the soothing waves. The wellness center specializes in Phyto Aromatic treatments inspired massage rituals from all over the world. Custom made essential oils and plant extracts are used to soothe and rejuvenate the body. If you are not staying at the hotel, try the Ultimate Day Pass which gives you access to the pool sunlounge, gourmet lunch, a 90-minute treatment and other perks.
Ask for a room, Junior Suite or suite facing the water to enjoy the most romantic views. Splurge on a terrace or a balcony so that you can relax outdoors on your island hideaway. The Ocean Suite, located on a high floor, have panoramic views and 947 square feet of living space. Bathrooms overlook private gardens and feature a rain shower and a granite bathtub. VacationIdea.com Travel Tip: Luxury packages are often available, especially for longer stays. Nightly rates start at 450 Euro (website).
»

W New York – Downtown
[W New York – Downtown]
New York City is beautifully decorated in December, featuring a great selection of stores to complete your Christmas shopping. Located on Washington Street and surrounded by New York icons such the Brooklyn Bridge and the Statue of Liberty, the W New York – Downtown is the perfect base from which to explore 'the city that never sleeps'. Well-appointed rooms and suites have over-sized beds dressed in crisp linens, modern décor, spacious en-suite bathrooms with baths and showers, and modern amenities. Rooms have spectacular city views and offer the new SPG Keyless service, whereby you can use your SPG app to check in, get your room number, and unlock your door – all from your mobile device. Work up a sweat in the state-of-the-art fitness center to panoramic vistas, before dining at one of the two restaurants at the hotel. The renowned BLT Bar & Grill serves classic all-American fare and stylish pub grub, while the Living Room Bar & Terrace has an excellent light menu, and an array of colorful cocktails and aperitifs, served on the outdoor terrace overlooking the city. Rooms start at $485 per night (website).
»

Yacutinga Eco-Lodge in Argentina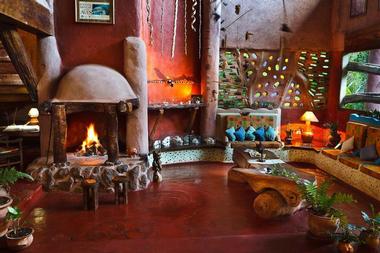 Bird watching enthusiasts will love Yacutinga Lodge in Argentina where numerous species of birds can be observed throughout the year. The eco-friendly property features a wildlife refuge, many tours and eco adventures. The lodge was built using logs from fallen trees and stones, using green principles. Guests are accommodated in rustic-style rooms with private bathrooms. 20 rooms have views of the surrounding jungle through uniquely shaped windows. You will be surrounded by the songs of birds all day long on your adventure. For additional privacy, consider booking Suite Yatei which is surrounded by jungle and slightly removed from the main building. While you are there, you will be able to visit the Yacutinga Biological Station dedicated to preserving the local and global environment. The property is located 2 hours from the famous Ig uazu Falls (website).
»

Glen Isla House, Australia
[Glen Isla House]
Surrounded by the beautiful heritage gardens of the Glen Isla Homestead dating back to 1870, Glen Isla House is steeped in history and charm. Located next to a pristine sandy beach on Phillip Island near Melbourne, this elegant boutique hotel is an ideal escape from the city. Well-appointed guest rooms and suites are decorated to echo the surrounding ambiance. Deluxe rooms boast modern en-suite bathrooms with baths or showers, individual climate control, tea/coffee making facilities, state-of-the-art technology, and electric blankets for added comfort. Shady verandahs offer lovely garden views. The main guest lounge is a comfortable retreat with a crackling log fire, a well-stocked library, and a large television. A sumptuous breakfast is served in the sunny dining room every morning and the nearby village of Cowes has an excellent selection of restaurants for dinner. Glen Isla House is close to the renowned Phillip Island Nature Park where you can see a variety of wildlife, and a number of well-known wine estates. Glen Isla House welcomes children over 12. Rooms start at 319 AUD per night (website).
»

Machu Picchu Pueblo Hotel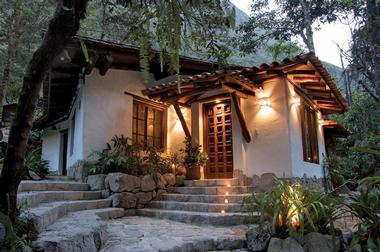 [Inkaterra]
Set 6,627 feet above sea level, the Machu Picchu Pueblo Hotel is a rustic boutique hotel which is home to the largest collection of native orchids observable in their natural habitat. Visit the historic Machu Picchu ruins in the Andes Mountains, Peru. UNU spa features mystical Andean touches in its body massages and foot aromatherapy. There is also a unique Andean Sauna to help you relax and unwind. There are 83 guest houses nestled in romantic one or two-story cottages reached by stone pathways.
Mikhuna Wasi or "The House of Food" in Quechua is the main dining room. The restaurant offers guests a view of the Urubamba River and the surrounding green mountains. Located just a few meters from the train station, Cafe Inkaterra Restaurant serves up Andean cuisine which is a must-try. It is possible to explore the ruins for many days but if you want to take a break from the ruins, try bird-watching. There are over 162 different species of bird, 16 species of wild hummingbird, and 111 species of butterflies. The property is located in the Cloudforest of Cusco between the Andes and the Amazon basin, 70 miles from Cusco City. Upon arrival to Cusco (11,100 feet), visitors travel one and a half hours by road to Ollantaytambo train station (9,200 feet) and take a 100-minute train ride up to the mountains, where visitors can comfortably acclimatize to the high altitude. Rates start at $528 per person per night, including three meals daily and a private escorted visit to the ruins (website).
»

Bananarama: Fantastic Scuba Diving in Roatan
Bananarama Dive Resort is located on the island of Roatan in the western Caribbean, just off the north coast of Honduras. This PADI Gold Palm Dive Resort lets you go on fantastic dives and explore the undersea wonders. In addition to snorkeling, fishing and scuba diving, activities near the resort include kayaking, parasailing and zip lines. Guests are accommodated in private cabins, suites and houses. The cabins have air-conditioning, microwaves, refrigerators, cable TV with in-room movies, and are just steps from the ocean. If you really can't get by without it, there is a high speed DSL connection available as well. There are direct flights from Miami and Houston. Hotel staff can meet you at the airport. Rates start at $120 per night for a Garden Cabana (504-2445-5005, 727-564-9058, website).
»

Te Wanaka Lodge, New Zealand

[Te Wanaka Lodge]
Resting in the heart of Wanaka Village, the gateway to New Zealand's spectacular Mount Aspiring National Park, Te Wanaka Lodge is a European-style ski lodge. Surrounded by beautifully manicured gardens with magnificent panoramic views, the comfortable lodge is a haven for skiing in the winter and a beautiful mountain retreat in the summer. Thirteen charming rooms are spacious and light with fresh décor, en-suite bathrooms and private balconies with tables and chairs for relaxing and soaking up the views. Imported linens and electric blankets keep you warm in the winter, while modern amenities and wireless Internet offer creature comforts. A quaint and cozy guest cottage is also available for extra privacy. A sumptuous breakfast is served every morning in the dining room and a range of in-room spa services can be enjoyed throughout the day. Have traditional Après-ski in front of the crackling fire during the winter or soak in the cedar garden's hot tub in the summer months and take in the breathtaking views. Rooms start at 220 NZD per night (website).
»

Cape Kidnappers in New Zealand
If you want to play some of the best scenic golf in New Zealand, book a tee time on the spectacular Cape Kidnappers course in Hawke's Bay, situated high above the bay with dramatic views of the water. Stay at the Farm which offers luxury suites and a four-bedroom Owner's Cottage. All of the suites offers spectacular ocean views from the bed and the private terrace. The Lodge Suites are the largest and offer quick access to the Lodge facilities. Ridge and Hilltop Suites are a short walk from the main lodge while Ridge Suites have romantic fireplaces and are great for couples who want privacy. Families and groups can rent the Owner's Cottage which has four bedrooms with fireplaces, large bathrooms and private balconies. The living room and open-plan kitchen are ideal for socializing. Fly to Napier (Hawke's Bay) airport from Auckland (55 minutes) or Wellington (50 minutes). If you are driving, the property is located six hours from Auckland and four hours from Wellington. Suites at the Farms start at 740 NZD per night. Green fees start at 300 New Zealand Dollars in low season; from 400 in high season (website).
»

Fisherman's Cove in India
Vivanta by Taj - Fisherman's Cove, Chennai is one of the best beach resorts for couples in Southern India. The resort offers 88 luxury cottages just steps from the water. Guest accommodations feature ocean views, private open garden showers and private sit-outs, great for a honeymoon getaway. You can also plan to get married right on the water, whether you want an intimate wedding or a large event (the property can host a party of up to 3,000 guests). You can pick from several themes, including the Pirate Theme, Fisherman Village and Carnival Theme. The Romantic wedding theme is popular with couples, featuring vivid colors, flowers, fabric, lighting effects and a band playing soft romantic music.
The Jiva Spa at Fisherman's Cove offers treatments and therapies inspired by the ancient Indian wisdom, including massages, body scrubs and wraps. If you are looking for romantic spas for couples, this is a great choice. You'll get a chance to try ancient Indian healing techniques combines with contemporary therapies, such as Indian aromatherapy massages, healing body scrubs and wraps. Work out at the 24-hour fitness center, relax at the pool bar and have a gourmet dinner on your getaway. The hotel concierge can arrange sightseeing tours of nearby towns and help you design custom itineraries. Activities include volleyball, buggy rides, catamaran rides, fishing, treasure hunts and more. Room rates start from INR 9,700 per night.
»

Viceroy Abu Dhabi
When you check into Yas Viceroy Abu Dhabi, you get access to great dining, a sandy beach and a luxury spa. The hotel is also home to the Yas Marina Formula 1 Circuit where you can watch high-speed races and practices. The LED canopy that surrounds the property and the race track lights up at night creating lively ambiance throughout. The property hosts the Abu Dhabi Grand Prix in November. It hosted the country's first Grand Prix a few years ago, which was also the first Formula 1 race ever in twilight. If you plan your visit around this popular event, be sure to book your stay early because they sell out quickly.
Viceroy Abu Dhabi offers a variety of rooms and suites that measure at least 580 square feet in size. Guest rooms are modern, like the exterior. Decorated in soothing beiges and browns, guest accommodations feature all-glass bathrooms with a rain shower and deep soaking tub. High-tech amenities include a 42-inch LCD television, centralized bathroom speakers and game consoles. The best rooms to book are the Marina Deluxe which overlook the Formula-1 track (be sure to ask for the view when booking because some of the Marina rooms have a view of the canopy only). The Marina Deluxe accommodations have floor-to-ceiling windows with custom furniture and designer fabrics.
The spacious suites measure at least 1,000 square feet in size and have floor-to-ceiling glass windows. The living area and bedroom are separated by sliding doors. There are 12 restaurants and lounges, ranging from Mediterranean cuisine to Southeast Asian specialties and Japanese Teppan. Enjoy light snack at the rooftop infinity pool while you relax in the sun. The lounges are popular with locals and visitors alike, offering great music, views and tasty drinks. Room rates start at AED 468 per night (website).
»

Anantara Sir Bani Yas Island Al Sahel Villas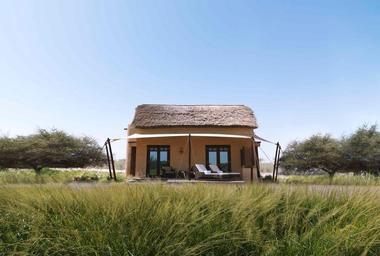 [Anantara Sir Bani Yas Island Al Sahel Villas]
The idea behind the new Anantara Sir Bani Yas Island Al Sahel Villas is to allow vacationers to experience the rugged beauty of the Arabian savannah while staying in a luxury villa with a private pool. Visitors will be able to enjoy stunning sunsets and wildlife watching in the 10,000-acre Arabian Wildlife Park. The 30 luxury villas are designed with traditional thatched roofs to blend with the natural surroundings. All of the villas have private plunge pools and one or two bedrooms.
Anantara Spa, famous for its rich menu of services, is the perfect place to relax with a massage, body wrap, facial and other rejuvenating treatments. Activities include kayaking, snorkeling, diving, archery, mountain biking, nature and wildlife drives. There is also an archeological site tour and horse stables. Guests can dine at the on-site gourmet restaurant Savannah Grill and have drinks at the cigar lounge. There are six other restaurants on the island in addition to the Dining by Design option. as Island is a 150 mile drive from Abu Dhabi, followed by a boat transfer. Charter flights are available at the Abu Dhabi International Airport. If you are traveling with kids, visit the Yas Waterworld.
»

Los Notros in Argentina
If you are planning an adventure that will get you up close and personal with a glacier, stay at Los Notros which overlooks the Perito Moreno glacier in Patagonia, Argentina. The Perito Moreno glacier is located in Los Glaciares National Park, declared World Heritage by UNESCO in 1981. The lodge offers 32 guest rooms with wooden ceilings, corduroy curtains and Mapuche rugs. You can take a luxurious bath while enjoying the rugged mountain surroundings. Each room has plush bathrobes, 300 strands cotton sheets and a pillow menu. Premium and Superior Rooms are located in the main hotel building. Cascada Rooms are located in separate three-story structures.
The restaurant erves lamb, duck and trout dishes, as well as Argentinian red meats and the signature mushroom soup. Guests can choose from a Wine List featuring 150 of the best Argentine wines. Room rates start at $480 USD per night for two (losnotros.com). The lodge is open from October 1 through April (summer time in the Southern Hemisphere).
»

Maison Souvannaphoum
[Maison Souvannaphoum]
Maison Souvannaphoum Hotel is located in Luang Prabang, a UNESCO World Heritage Site in Laos. The hotel is a fun adventure getaway for couples and a great starting point for visiting the area's attractions such as the Royal Palace, Mekong River, Mount Phu Si and ancient temples. Angsana Spa offers holistic massages, beauty wraps and tropical scrubs in three outdoor pavilions. Before and after your treatment, relax next to the outdoor swimming pool.
There are 24 air-conditioned rooms, most with private balconies. Guest suites in the La Residence wing enjoy additional privileges, such as personalized service, daily complimentary laundry, champagne breakfast and afternoon tea. Elephant Blanc Restaurant serves Western, Laotian and local dishes. The hotel is a two-hour flight from Bangkok, Thailand, and a 40-minute flight from Vientiane, the capital of Laos. The property is located ten minutes from the airport. Room rates start at $170 per night; suites from $270 per night (website).
»

Solmar Resort in Cabo San Lucas
[Solmar Resort in Cabo San Lucas]
Hidden away from the world by towering cliffs, Solmar Resort in Cabo San Lucas is luxurious all-inclusive seaside retreat. Surrounded by the beauty of the rugged desert and cerulean ocean, this luxurious all-inclusive resort provides an unforgettable Mexican experience. Combining contemporary classic design with a traditional Mexican touch, 100 luxurious guest rooms are well appointed with modern décor and deluxe amenities, and private balconies and patios offer spectacular ocean views. Guests can dine at two Mexican-inspired gourmet restaurants, Tejaban and El Trébol, while The Sushi Factory serves fresh sushi and seafood delicacies throughout the day. Sip cocktails at the elegant pool bar as you watch the sun sink below the horizon. The exclusive Spa Cabanas at Solmar offers a variety of pampering body and facial treatments in a tranquil setting. Lounge by the sparkling swimming pool with a drink as you soak up the magnificent sea views. Try a range of exciting water sports around the resort from snorkeling and scuba diving to fishing and sailing, as well as other activities, such as golf, adventure tours and world-class shopping in Cabo. All-inclusive rates start at $212 per night (website).
More Great December Vacation Ideas
Plan a romantic ski trip to Europe and stay at Badrutt's Palace in St. Moritz with scenic views of Swiss Alps. Or travel to The Fairmont Chateau Whistler in Canada for a trip filled with outdoor activities.
If you are craving warmth and sunny weather, visit Jamaica. Caves Resort is a romantic hotel popular with couples, offering just 12 guest accommodations, private cave dining and a relaxing wellness center. Round Hill Jamaica offers elegant villa suites, a private beach and gourmet dining.
From October through April, the warmer months in New Zealand, Grasmere Lodge offers challenging fly fishing in its eight lakes, four large freestone rivers, and eight streams and creeks. The lodge operates on a catch and release basis. The lakes, rivers, streams and creeks are fished with dry flies and nymphs cast to sighted fish. The Grasmere area is home to both browns and rainbows, averaging around three pounds. Various lakes are also home to Loch Leven, Mackinaw and Splake trout. During certain times of the year, there is salmon fishing. Guide fees start at $NZ 580 (about $380 USD) per day for up to two people, including transport and lunch. The fly fishing season runs from 1 October to 30 April for the rivers, and from the first Saturday in November to 30 April for the lakes. A fishing license is available at the lodge.
Plan a spa trip to the Tasmanian wilderness and spend a few days getting pampered at Waldheim Alpine Spa at the Cradle Mountain Lodge, Australia. Unspoilt nature and scenic views create a soothing ambiance where guests can rest their mind and body. Choose from a number of therapies that utilize Australia's Sodashi skin and body care line. The wellness center also offers specialized treatments that utilize organic herbs, essential oils, honey and seaweed from Tasmania. Couples can enjoy side-by-side treatments in the double treatment room at Waldheim Alpine Spa. There is a relaxing area with a steam room, sauna, large hot-tub and cool plunge pool, and a relaxation lounge where you can rest before or after your treatment.
Try a few of the African-influenced treatments at Cape Grace Hotel in Cape Town, South Africa. Exclusive to hotel guests, that wellness center is situated on the top floor of the hotel, overlooking Table Mountain, the city and yacht marina. It utilizes Academie skincare line and offers a range of conventional therapies as well as traditional African treatments. The specialized African Cape Massage uses the circular massage technique and Shea body butter to help you relax. A half hour prior to treatments, a specially prepared package is delivered to the guest's room. The package includes a robe, slippers and a card confirming the treatment booked. There are four therapy rooms, a bath, sauna, steam room, rain and body showers.
Las Vegas is another great place for Christmas shopping, where you can find famous designer items. Caesars Palace is centrally situated in the heart of the Las Vegas Strip and offers The Forum Shops.
Get away to Rome, Italy, and stay either at Aldrovandi Palace or the elegant Hotel de Russie. Visit the city's famous attractions, museums and shops.
Daintree Eco Lodge & Spa in Australia is set in the middle of a tropical rainforest, close to awesome scuba diving and snorkeling.
There are many warm-weather winter spots in Florida, the Caribbean and Hawaii. If you are traveling with kids, Portofino Bay Hotel in Orlando gives you quick access to Universal Theme Parks.
The Landings in St. Lucia has a sandy Caribbean beach, spa and a program for kids. Petit St. Vincent is set on its own private island, complete with sandy beaches and many water-based activities, such as snorkeling, sailing, kayaking, windsurfing and fishing.
Maui is a popular winter destination because of its warm weather, whale watching, golf, spas and other activities.
Get away to an oceanside spa resort in California. Hotel del Coronado features a beautiful Victorian spa which lets you enjoy an array of relaxing spa treatments on vacation. The hotel's seaside location has attracted vacationers since the 19th century. Travelers looking to rejuvenate their body, mind and spirit can choose from a variety of pampering and rejuvenating treatments.
In addition to classical treatments such as massages, wraps and facials, the Spa at Hotel del Coronado will be offering unique water therapy treatments in hydrotherapy pools. Travelers can choose from spa packages especially designed for individuals, teens, couples, mothers and daughters, fathers and sons, girlfriends and wedding parties. The Spa offers 21 treatment rooms, sanctuary areas, hydrotherapy pools and steam rooms. A private veranda and a pool will provide another great place to relax on vacation.