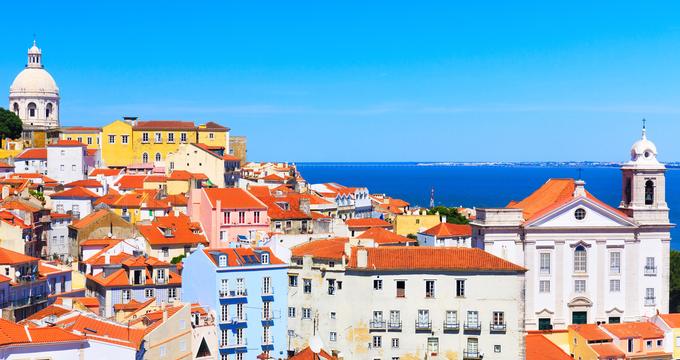 15 Best Honeymoon Destinations in Europe

Top European honeymoon destinations include Portugal, Finland, Scotland, Monaco, Spain and more.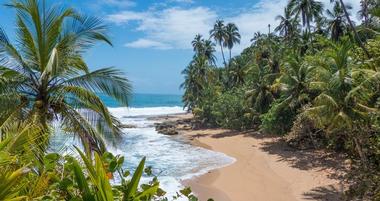 25 Best Honeymoon Vacations in Central and South America
Top Central and South America honeymoon vacations include beach hideaways, luxury resorts, spas and lodges.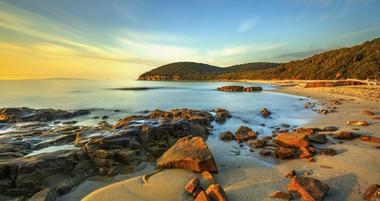 20 Unique European Honeymoon Vacation Ideas
The properties that made our list all offer stylish accommodations and great service.
Great Honeymoon Vacation Ideas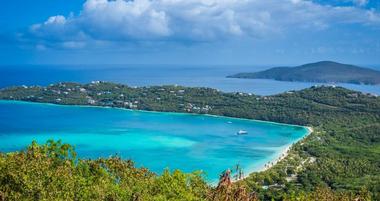 25 Best Things to Do in Saint Thomas
Saint Thomas is a popular holiday destination for many visitors looking for sun, sand, and sea.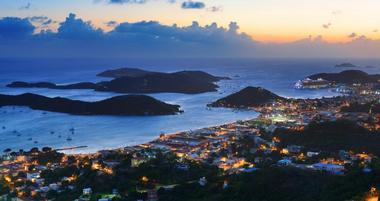 20 Perfect St Thomas Honeymoon Ideas
St Thomas is a beautiful Caribbean island that is a favorite with honeymooners because of its sandy beaches, great activities and a diverse choice of places to stay.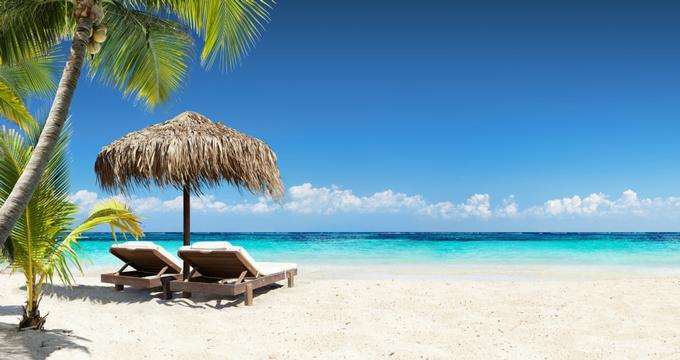 25 Best Honeymoon Destinations in the Caribbean
When a dream honeymoon stirs visions of swimming in turquoise water, sipping piña coladas on a white sand beach, and swaying in a hammock to the sounds of calypso music, the Caribbean is the destination.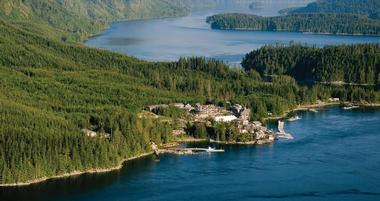 Best Honeymoon Wilderness Vacations in British Columbia
British Columbia is a fantastic vacation destination for couples who love the outdoors, offering pristine nature, incredible views and mouthwatering cuisine.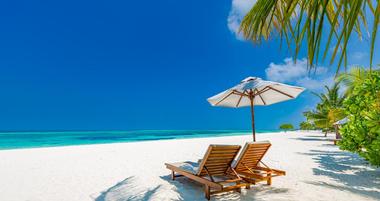 20 Best Hawaii Honeymoon Vacation Ideas
Hawaii Honeymoon ideas include luxury beach resort, secluded spots and romantic inns on Maui, the Big Island, Kauai and more.
More Feature Stories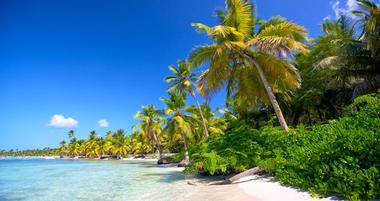 14 Best Luxury Caribbean Vacations
Luxury vacations include ideas in St. Barts, Antigua, Turks and Caicos, St. Thomas and other Caribbean destinations.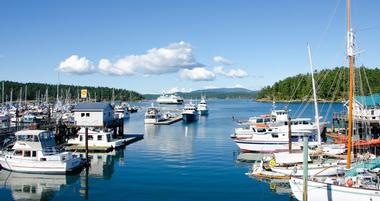 25 Best Small Town Honeymoon Destinations
Top honeymoon destinations in the United States include Friday Harbor, Taos, Cambria, Key West and other amazing places.
Honeymoon Vacation Planning Tips & Ideas
Read our cheat sheet for planning the ultimate honeymoon so that you can avoid common tourist traps, save money and have the best time of your life. Honeymoon is a trip the new couple takes together to relax, try unique activities and stay in a hotel with plenty of scenic backdrop for beautiful photos. Couples often return to the same destination years later to celebrate their anniversary. That's why the time choosing your ideal destination is well spent - you will literally be creating memories to last you a lifetime.
Show more unique weekend getaways for couples: in PA, in Ohio, in Florida, in Texas, in Georgia and more.
Honeymoon Trips - Where should I go for my honeymoon? When picking your dream honeymoon destinations, consider the cost, how much time you have for the trip and what your partner likes. Once you are done relaxing in your suite and at the resort spa, a choice of on-site activities and nearby attractions is another important factor when choosing your getaway. If you love the ocean, a destination like Bora Bora or Fiji is well worth the extra travel time. Stay in a bungalow right over the water and jump in for a magical snorkeling experience with tropical marine life. Couples who prefer diverse nightlife, dining and shopping can look at destinations like Waikiki and Miami Beach for a variety of options. For couples who like sandy beaches, some of the best destinations include Bora Bora, the Caribbean Islands, Hawaii, Mexico and the Maldives. Other great tropical destinations are the Seychelles, Phuket, the stunningly beautiful Great Barrier Reef and other islands. Italy is home to many romantic hotels and you can plan a trip that includes several amazing destinations, such as Florence, Venice, Capri and the scenic Amalfi Coast.
Where do I find the best honeymoon packages? Packages fall into two categories: deals that let you get free nights, meals and spa treatments; and packages that are not savings in themselves but give honeymooners special romantic amenities such as champagne and rose petals. The best packages combine the two. In certain destinations like Bora Bora, Fiji and many places in the Caribbean, romantic offers are available pretty much year round. In the Caribbean and Mexico, you can find the best honeymoon deals in the summer months which is low season. Far-away destinations like the Seychelles and the Maldives often offer specials to couples to incentivize them to stay longer, such as free nights, massages and romantic dinners.
Honeymoon Trips - How do I find an inexpensive honeymoon? You don't have to travel to an exotic destination such as Bali or Thailand to have amazing memories from your honeymoon. Usually young couples can't afford the time and the expense to travel to a secluded private island. There are many great affordable resorts and hotels that offer great packages for honeymooners. You will feel pampered and relaxed with VIP amenities like chilled champagne, chocolate covered strawberries, rose petal turndown and a farm-fresh dinner. In order to save money, look for places where you can drive: local inns, spa resorts and beach getaways in destinations such as Southern California, Vermont and Maine. During certain times of the year, flights to Florida or Mexico can be quite cheap. In Mexico, you will find four and five star beach resorts at a fraction of a cost of those in Hawaii or Fiji. Look for seasonal specials and avoid peak travel times such as Christmas, Thanksgiving, spring break and summer school holidays, to find cheap honeymoon ideas. Use online comparison tools like Hipmunk and Kayak to find the cheapest flights and car rental deals. Room77 has some handy hotel comparison features that let you choose a hotel room based on certain amenities such as a pool or free breakfast. Another way to experience the best honeymoon without breaking the bank is to open an online registry which will allow your guests to give you the gift of travel. Guests can contribute to a particular segment of the trip, such as a portion of the airline ticket, a luxury suite and more. You can browse through the registries created by other guests to get some ideas on how to plan your trip and ask your wedding guests to contribute.
How do I get the best deal on my suite? Honeymoon is the time when one doesn't want to worry about every penny. Every couple dreams of the perfect suite on the beach, over the water or in the mountains with spectacular scenery. How do you save money and still get your dream suite? Remember to look for off-season specials. For example, rooms in the Caribbean can be 50% cheaper in the summer and in the fall which means that you can get a beautiful suite on the beach for less than the price of a standard room in-season. >Similarly, the Hawaiian islands are much less popular in October, letting you not only enjoy lower rates but empty beaches as well. Look for specials which include car rental deals, free massages and rounds of golf. Airline tickets will be much easier to find in October and you are more likely to get an upgrade to business or first class. And who doesn't want to to start their Hawaiian honeymoon with a free sundae in first class?
Honeymoon packing list What you decide to pack for your honeymoon will depend on where you are going and when. Packing for a ski trip will require more room in your suitcase but packing for the tropics can have its challenges as well. Do you bring your golf clubs or rent them? How about scuba gear? What is the dress code for dinner at the resort of your choice? Do you plan to have romantic dinners on the beach or prefer elegant restaurants? Click here for our packing tips.




What are some of the best honeymoon resorts? While we suggest that you browse the honeymoon section of our web site to see all of the ideas, here is a list of hotels and resorts offering something unique to look forward to on your romantic vacation. If you plan to stay in, order room service and mostly relax with a view (a popular option to recuperate from all the excitement of planning a wedding), pick a hotel that offers fabulous suites. If the location is next to a sandy beach with five star service, even better. Look at restaurant photos before you commit to a particular hotel since you are likely to spend hours staring into each other's eyes in a romantic restaurant with a view, making plans for the future. Likuliku in Fiji has a beautiful blue lagoon and suites right over the water. The all-inclusive Lomalagi is another good option in Fiji. Bedarra Island on the Great Barrier Reef has suites with floating beds and private plunge pools. Cocoa Island in the Maldives has unique over-water villas. Hotel Pulitzer in Amsterdam has individual rooms located on the romantic canal. Couples Swept Away in Jamaica is an all-inclusive beach idea. Hotel Maitai Polynesia is an inexpensive option in Bora Bora. For an eco-friendly getaway, check into Thala Beach Lodge or the Clayoquot Wilderness Resort in British Columbia. In French Polynesia, two romantic island getaways include Vahine Island and Tikehau Pearl Beach Resort. Fairmont Mayakoba in Mexico is a luxury resort which often offers great deals to couples.
More Honeymoon Vacation Ideas
There are many great destinations to choose from, depending on your timeframe and budget. Couples who can get away for two weeks or longer can head to a secluded island in French Polynesia where overwater bungalows offers spectacular views and easy access to the ocean. Often working couples can only take off for a few days after a wedding and honeymoon weekend trips are getting more and more popular. Resorts offer an array of romantic packages that include flowers, romantic dinners, sunset cruises and other ideas.
Honeymoon Vacations: Relax on the Beach
The Caribbean is home to many private island getaways which are perfect for relaxing in the sun. Petit St. Vincent is a 113-acre getaway with sandy beaches and just 22 luxury guest cottages, offering privacy and seclusion. Activities include snorkeling, kayaking and sailing. Another great destination are the Florida Keys. Hawks Cay has a sailing school, swimming pools, dolphins and a spa. The Datai Langkawi in Malaysia is surrounded by a sandy bayand a pristine tropical rainforest. Pool Villas with their own plunge pool and offer plenty of space. The Westin St John Resort in the US Virgin Islands in the Caribbean is home to 146 luxury hillside and garden villas are specially designed for larger groups and families. There are two types of villas: Hillside Villas and Bay Vista Villas. Some luxury villas have private swimming pools, jetted tubs, kitchens and other amenities. The resort has a spa, sandy beach, many water sports and other activities.
Spas
Solage Calistoga has one of the top rated spas in the U.S. Book a couples massage at the 20,000-square-foot Spa Solage. Surrounded by a beautiful national park in South Africa, The Twelve Apostles is home to the Sanctuary Spa where you can get a massage in a gazebo overlooking the ocean. The Spa at Elbow Beach Bermuda features six luxury spa suites with balconies overlooking the ocean. Wynn Las Vegas has a luxurious spa with 45 treatment rooms offering massage, body treatments, facials and hydrotherapy. The Sage Springs Club and Spa at Sunriver Resort in Oregon is a two-level, 35,000 square foot spa vacation getaway with an indoor lap pool, tennis courts, conditioning center and movement studio. The spa offers treatments inspired by the ancient Indian science of Ayurveda. Choose from massages, facials, and body wraps. Or try one of the Sage Springs signature services utilizing indigenous plants from the healing high desert.
Manea Spa at Bora Bora Pearl Beach Resort is the largest spa in French Polynesia. The spa measures 600 sq meters (6,450 square feet) in size and features a lake-side location with tropical garden surroundings. The spa utilizes ancient Polynesian massage techniques and 100% natural local products such as sandalwood, Tiare flower, ylang ylang, Tamanu oil, coconut, vanilla and fresh fruit. Manea Spa has two steam rooms, two saunas, four single and double massage rooms, a relaxation room, a manicure room, a 50 sq meters double VIP massage room for couples, a double Vichy shower and an air-conditioned fitness room. Find out more about Bora Bora Pearl Beach Resort.
Honeymoon Vacations: Adventure
In Fiji, Dolphin Island is as private as it gets, accommodating only one couple at a time. Le Taha'a Resort in Tahiti is a secluded getaway offering beautiful suites on the water. Get a massage in the luxurious couples spa suite, go snorkeling, scuba diving, and relax by the pool. Rates start at around $750 for a Raiatea Over Water Suite Room. Le Taha'a is located in Bora Bora on the island of Motu Tautau. Guests can book one of the 48 Over Water Suites or 12 Beach Suites.
What to Consider When Choosing and Planning a Honeymoon
Choosing your honeymoon should be the fun part of your wedding planning process. A honeymoon is like any other vacation, except on this one you really don't want anything to go wrong. As long as you keep a few simple things in mind, you should be a wonderful romantic experience. The most important things to consider when choosing your trip are:
The Time of Year: You should be aware of the weather, crowds, and the cost associated with your destination choices - and narrow your choices accordingly.
Your Honeymoon Destination and How You Will Get There: It is very easy to get hooked on a particular destination but keep in mind the type of traveling involved in getting there. If you are the type of person that would prefer three to six hours in a limousine or a single airplane flight than don't book a trip that will require you to fly on three planes and two boats just to get there.
What Your Destination has to Offer: Imagine arriving at your resort only to discover that your dream of eating breakfast in bed ever day will not happen because the hotel does not offer much in the way of room service. Even if you plan to do nothing but sit on a beach for a week make sure that you know what your hotel has to offer. Another idea is to choose a resort that has activities that you and your spouse like or can learn together. Scuba diving certification is very popular with newlyweds.
Your Room: Since you will probably be spending more than half of your time in it, your room should be exactly what you want. Almost all hotels and resorts now offer luxurious suites, and some resorts have bungalows or cabins that are even more private. It is also a good idea to try to get as much information as possible about the location of your room. For example, make sure that your room is not directly over an open air band that plays until 3 am each night. (You would be surprised how often this happens.)
Call the Resort to Confirm Everything: Make sure that you call someone who is actually at the resort to confirm all the details of your trip. That way, if something is not right once you arrive at the resort, you can talk directly to someone you have already spoken with. If something does go wrong at your hotel, contact the manager and calmly present your problem and ask for it to be fixed. More often than not the staff will do their best to make you happy. At any good resort, the phrase "we are on our honeymoon" can often move mountains.
What Are the Best Honeymoon Destinations?
Browse a collection of some of some of the best honeymoon destinations around the world. Stay in a romantic over-water bungalow in Bora Bora. Have breakfast with views of the sea and jump in for a refreshing swim. Don't forget to pack your mask and snorkel and plan to spend a lot of time in the water.
Maldives: The Maldives are home to stunning villas and suites surrounded by a clear blue lagoon where you can spend your honeymoon snorkeling, sunbathing and relaxing on your private deck.
London: London is an international honeymoon destination, famous for its historic sights, museums and restaurants. There are several hotels with fabulous honeymoon suites, including Mandarin Oriental Hyde Park in Knightsbridge which has a luxury spa with a pool and a restaurant serving modern European cuisine. Or head to the nearby Dorchester Hotelwhich has four restaurants serving Chinese, British and Italian cuisine.
Kauai: If you are looking for a lush tropical honeymoon destination, visit the island of Kauai in Hawaii, famous for its white-sand beaches. Grand Hyatt Kauai has a beautiful spa with waterfalls, pools and a couples treatment suite ideal for honeymooners. The Sheraton Kauai on Kauai's South shore offers snorkeling, romantic dining with a view of the ocean and a choice of honeymoon vacation activities.
Vermont: Head to Vermont for a quick honeymoon weekend getaway and stay at a romantic inn with a gourmet restaurant. Whether you are looking for a romantic inn or a resort with many activities, there are quite a few choices. The Pitcher Inn has nine individually decorated guest rooms and two suites. The restaurant at the inn has a wine cellar with thousands of wines from around the world. If you are looking for full-service resorts for your romantic honeymoon, take a look at The Equinox Resort which has a spa, several restauranst and many activities. At The Equinox Resort, couples can enjoy treatments at the spa, swim in the indoor pool, and try activities such as off-road driving, golf and hiking. You can stay in a historic suite on your honeymoon vacation. Windham Hill Inn in Southern Vermont has 21 rooms with valley views, featuring fireplaces, and private porches. At the Essex Culinary Resort, couples can play golf and relax next to the outdoor pool. The Basin Harbor Club is a good place to go in the summer.
San Francisco: If you are considering city honeymoon destinations, San Francisco offers many things to see and do. Check into a stylish hotel, visit museums and dine at famous restaurants on your honeymoon. The St. Regis San Francisco is located right next to the San Francisco Museum of Modern Art. The hotel has a 9,000-square foot Remede Spa, pool and elegant guest rooms and suites. Sheraton Fisherman's Wharf Hotel is located next to Ghirardelli Square where you can enjoy shopping, take romantic walks, choose from a selection of cuisine from around the world, visit museums and attend a concert. Hotel Vitale overlooks the San Francisco Bay, features a spa and stylish guest accommodations. Enjoy limestone covered bathrooms and 440-thread count sheets on your San Francisco honeymoon.




Colorado: Whether you are planning a summer or a winter honeymoon, Colorado is year-round vacation destination. The state offers a great selection of mountain lodges, luxury hotels with spas and many outdoor activities. The Peaks Resort in Telluride has a golf course, skiing, tennis courts and a spa with a pool. Hotel Jerome is Aspen is a historic hotel with elegant accommodations. The Osprey at Beaver Creek offers its guests ski-in/ski-out access to Beaver Creek and a gourmet restaurant. The Arrabelle at Vail Square has 62 charming guest rooms and a spa where you can get pampered on your honeymoon.
British Columbia: British Columbia is for couples who enjoy the outdoors, offering great scenery, wildlife watching and numerous outdoor activities. Famous for its untouched nature, lush forests and rivers abundant with wildlife, British Columbia is the westernmost of Canada's provinces. Even if you do not have a lot of outdoor experience and want to do something adventurous on your honeymoon, there are so may activities to choose from that you won't be disappointed. Many resorts and lodges offer hiking maps and guided tours, mountain bike rentals and kayaking. Summer is a great time to visit to enjoy the outdoors.
Japan: Japan offers couples a choice of great hotels, historic attractions, shopping and gourmet restaurants. Windsor Hotel TOYA on Japan's Northern Island offers stunning ocean and lake-view rooms. The Ginza district of Tokyo is home to some of the most famous shops and department stores. Stay at the Strings Hotel which offers great views of Tokyo from the stylish guest room. Grand Hyatt Fukuoka lets you experience a traditional Japanese Tatami Style on your honeymoon. Grand Hyatt Tokyo in Roppongi features seven restaurants and spectacular city views.
Top