Get away for a honeymoon of a lifetime to one of these amazing destinations where you can snorkel, have romantic picnics on the beach and indulge in relaxing massages. Our collection of 30 Best Honeymoon Ideas includes full service resorts, private islands and affordable secluded hideaways, giving you plenty of options. Your honeymoon is the perfect time to try something you've always dreamed about: scuba diving, glass-bottom kayaking and sleeping under the stars.


»

Kaya Mawa
Kaya Mawa is a romantic hideaway with just 10 beachfront accommodations on the stunning Likoma Island on Lake Malawi, the third largest lake in Africa. Spend your days sunbathing on the beach, getting massages, and snorkeling in the clear lake which is home to colorful tropical fish. Paddle a kayak along the island's coastline and jump in for a swim in the beautiful clear lake. Many of the rooms and houses have a private plunge pool, perfect for cooling off on hot sunny days. The hotel restaurant serves delicious meals prepared with organic produce and freshly caught fish from the lake. Rates start from $335 per night (website).
»

Hotel Claris Barcelona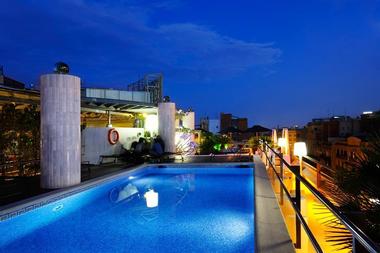 [Hotel Claris Barcelona]
Claris Hotel is a romantic hotel situated in a nineteenth century neoclassical palace in the center of Barcelona in Spain. A perfect getaway for everyone who appreciates art, this stylish modern hotel is filled with over 400 works of art exhibited in the guest rooms, lounges, the reception area and entrances. The art pieces include Indian and Burmese sculptures from the fifth to the thirteenth centuries, furniture from the eighteenth and nineteenth centuries and over 100 Turkish kilims, once part of the Lord Cromwell collection. Also on display are Roman and Carthaginian mosaics as well as fifty engravings by Guinovart, produced exclusively for the hotel. The first floor of the hotel is the display area of one of the most important private collections of Egyptian art in Spain.
The hotel has 124 luxury guest rooms, including junior suites and duplex suites. Each room is individually decorated with unique furniture, marble and exotic wood. The hotel features an outdoor swimming pool, perfect for relaxing after a day around town on your romantic getaway. The hotel is located in the center of Barcelona and is a great starting point for exploring the city. Barcelona features Art Noveau curved architecture with many designs by Antoni Gaudi such as city parks, sculptures, street lamp-posts, metro entrances and buildings. Spring is the best time to visit Barcelona because of mild temperatures. Barcelona is serviced by El Prat de Llobregat Airport, about 7 miles south of Barcelona. While the fastest way into the city is by train, you can also get a taxi or rent a car. Rates from about Euro 290, depending on the season (+34-93-487-6262, website).
»

LoftCube at Hotel Daniel Graz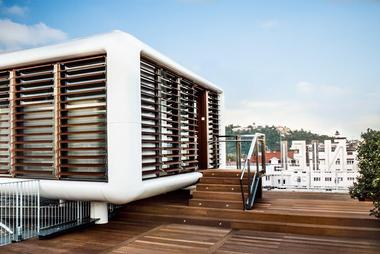 [Hotel Daniel Graz]
Feel like you are floating above the city of Graz in Austria when you wake up inside LoftCube at Hotel Daniel Graz. This is the ultimate honeymoon suite for couples who like city escapes with a view and designer decor. You will be able to enjoy 360-degree views of the city landmarks right from your bed when you wake up in the morning. The cube sits on top of the hotel and offers 44 square meters of living space surrounded by floor-to-ceiling windows. The spacious bathroom is filled with plants, making you feel like you a taking a shower in a rainforest. LoftCube starts at 450 Euro per night (hoteldaniel.com).
»

Danai Beach Resort in Sithonia, Northern Greece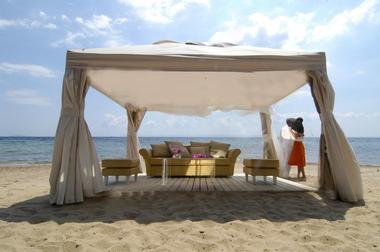 If you are looking for unique beach and spa vacation ideas in Greece, the Danai Beach Resort is a stylish luxury hideaway in Sithonia, Northern Greece, surrounded by beautiful beaches, Mediterranean pine trees and clear turquoise waters of the Aegean Sea. The resort has a full-service spa, fitness center and a offers selection of activities, including tennis, kayaking, water-skiing and windsurfing. The elegant hotel pool is elevated over the sea with scenic views of the peninsula. Take an excursion to the archaeological site of King Philip the Great, the father of Alexander the Great, and view the Kostakis Collection of Paintings at the museum on your beach vacation in Greece.
Golfers can play golf on a nearby 18-hole golf course. Thessaloniki, the second largest city of Greece, is a one-hour drive from the hotel. The resort offers individually furnished guest rooms, suites and villlas with air conditioning and satellite TVs. If you are planning a romantic beach vacation getaway to Greece, ask for one of the suites with a private pool. The hotel offers 24-hour room service, daily maid service, nightly turndown and butler service upon request. The Pavillon restaurant serves light meals with an emphasis on Macedonian cuisine, while the open-air seafront restaurant The Squirrel offers gourmet Mediterranean food. If you want grilled steaks and seafood, head to the Seahorse Grill Restaurant.
Plan the ultimate birthday with the 6-night birthday celebration package. The special starts at 4,615 Euro and includes: 6 nights, Airport transfers, Champagne, Strawberries, wine and flowers, Birthday Cake, Private Dinner on the beach, massage, and a gift. You may also like the 5-night Anniversary offer which starts at 7,500 Euro for 5 nights and includes: airport pickup, champagne, strawberries, a gift, romantic bed decor, breakfast daily, massage, sweets, manicure, dinner, BBQ dinner and a cruise. The stylish beach resort is a 50-minutes drive from the Thessaloniki International Airport. Doubles start at € 290 in low season; from € 438 in hight season (+30-23750-22310, website).
»

Marina Bay Sands in Singapore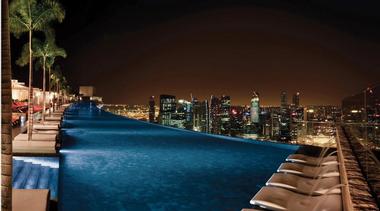 Check into Marina Bay Sands in Singapore for exclusive access to the resort's incredible rooftop swimming pool with spectacular views of the city. The pool is open only to guests and can be accessed using your room key card on the 57th floor of Tower 1. The infinity pool is 492 feet long and literally hangs over the north tower. While the rooftop pool can only be used by the guests, The Club at Marina Bay Sands opens to the public each night at 8pm to 12am. Enjoy tasty treats and a class of champagne at the decadent Chocolate Bar while taking in the view. Chocolate creations include Steamed Chocolate Creme, Banana Chutney and Le Petit Antoine. Guests have a choice of 2,500 rooms and luxury suites with spectacular city views. Splurge on a luxury suite and enjoy VIP access to The Club as well as breakfast at Sky on 57.
Spectacular pieces of art can be admired throughout the common areas, including an abstract sculpture by Zhang Wang, huge wall drawing Sol LeWitt, giant bowl of water by Ned Kahn, a sparking wall of water by Ned Kahn, a reflection facade by James Carpenter and a forest of 83 trees planted in giant pots. According to Wikipedia, Marina Bay Sands is the world's most expensive casino resort (it cost S$8 billion to build). There is a shopping center, a museum, two theaters, seven celebrity chef restaurants (plus about 35 other dining venues), two floating Crystal Pavilions, "Skating Rink" and a casino with 500 tables and 1,600 slot machines. ArtScience Museum is a fun destination for guests of all ages. Kids and grown-ups alike will enjoy programs and exhibits which include ArtScience where visitors can interact with hot new inventions and meet the creators.
Many unique workshops are offered throughout the year, including shadow puppetry worshop, storytelling, stop motion film creation and a workshop where you use LEGO blocks to create a variety of print patterns on different surfaces. Rates start at S$399 per night. Click here for more unique getaways and best tropical getaways (+65 6688 8868, website).
»

The Pig on the beach in Dorset, England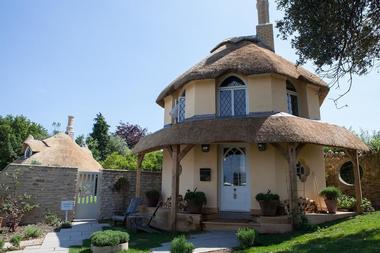 [THE PIG - on the beach]
Check into one of the stylish rooms at THE PIG - on the beach in Dorset, England, a newly opened hotel with its own greenhouse and kitchen garden. You will get a chance to savor delicious cuisine and take romantic walks along the scenic Studland Bay on your honeymoon. From April to September, rent a beach hut and spend a day sunbathing on the sandy shore.
Leave some time for a relaxing massage in one of the two spa treatment rooms, located in chic renovated sheep huts. The restaurant has a wood fired oven and prepares creative dishes such as gourmet flatbreads, fresh fish, salads and homemade ice cream. Rooms start at 119 GBP (0845 077 9494, website).
»

Hotel Monte Mulini in Rovinj, Croatia
[Hotel Monte Mulini]
Surrounded by the ancient Zlatni Rt Golden Cape Forest Park adjacent to the sea of Lone Bay in Rovinj, Croatia, Hotel Monte Mulini is a five-star getaway for spa and sea lovers. The hotel is 38 km from Pula Airport in Croatia and a couple of kilometers from the center of Rovinj. You'll have a choice of 99 rooms and 14 suites, each with a spacious bathroom and balcony which overlooks the Adriatic Sea and the protected natural forest park. The Wine Vault has a wine cellar ambiance serving French cuisine paired with a choice of wine from its list of 500 Croatian and imported labels. Fine Mediterranean cuisine is offered at the Mediterraneo with panoramic views of Lone Bay. The Lobby Bar provides scenic views of the sea and forest park during the day while having cups of exotic coffee blends and finger foods. The bar turns into a chic and vibrant place in the evening as it offers lively music and cocktails.
The Wellness Center occupies three floors and consists of the Fitness and Beauty Center, Zen Spa and Lone Wellness Center. All zones offer superior personalized services and uniquely soothing body treatments inspired from Mediterranean concepts of well-being. Near the hotel, guests can play tennis at the Eden Sports Center which houses eight outdoor and four indoor courts. Or take a leisurely stroll along the Lungomare promenade leading towards the heart of Rovinj. Zlatni Rt Golden Cape Forest Park is ideal for climbing, hiking, Nordic walking or biking. Families can wash away all their daily stress at the 400-square meter swimming pool complex which includes a kiddie pool and four hydro-massage outdoor pools with splendid views of Lone Bay. Punta Corrente pebble beach is accessible from the hotel's pool complex. The property offers several romantic wedding venues. Book the comprehensive honeymoon package that you will surely cherish forever. Choose from several multi-purpose conference rooms from two conference centers for private occasions, corporate meetings, business events, galas and banquets. Rooms at the hotel start at 221 Euro per night.
»

Constance Le Prince Maurice, Mauritius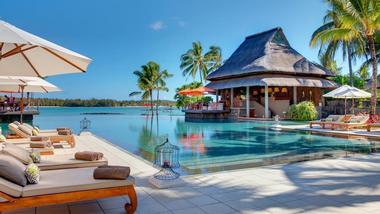 Take the family to the tropical island of Mauritius and check into Constance Le Prince Maurice which offers a free kid's club and many activities for the whole family. You can relax at the spa, play golf and swim in the resort pools or in the ocean. Mauritius is favored by tourists who enjoy sandy beaches and tropical weather. The island nation is located in the Indian Ocean, off the southeast coast of the African continent. There are 64 Junior suites, 12 Family suites, 12 Villas and the ultra-luxury Princely suite.
Spa de Constance offers beautiful facilities, including an outdoor pool surrounded by plush lounge chairs, Sauna, Jacuzzi, Steam Bath & Chilled Bath. The fully equipped gym lets you stay on shape on vacation. Available for children from 4 to 11 years, the kid's club is free for hotel guests. The Club has numerous facilities and amenities, including a Swimming pool for free play, relays, tag games and more, Open play areas to show off talents, play interactive games, show movies and create a kids' circus, Computer stations for gaming, internet access and other activities. Children get access to Day and evening themed programs, giving parents a chance to relax and have a romantic dinner. Children will make pizzas, smoothies, ice cream and participate in a variety of games. Kids between the ages of 4 and 6 have access to pretend play areas such as kitchens, tools and various rides. There is a great playground where you can have fun with your kids. Rates at the hotel start at 400 Euro per night.
»

Harvey's Point in Ireland
[Harvey's Point]
Tucked away in the midst of the Bluestack Mountains on the shores of Lough Eske, Harvey's Point is an elegant hideaway in the heart of Ireland. Well-appointed accommodations range from standard rooms, which boast elegant décor, Italian marble en-suite bathrooms and modern facilities, to the Gourmet Suite, with its own private bar. Rooms have breath-taking views over the glassy lake and the mountains. Dine in style at the award-winning hotel restaurant where gourmet cuisine and fine wine is served in a regal ambiance. Retire to the cozy cocktail bar where you can have a drink next to the crackling fire and relax with a good book. The hotel is close to Donegal Town which is home to several fascinating historic sites, pubs and restaurants. Outdoor activities in the area include golf, horseback riding and angling. Rooms start at 198 Euro per night (website).
»

Anassa Hotel on Cyprus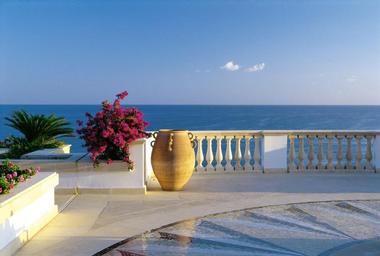 The Anassa Hotel is located on the northwest side of the island of Cyprus. The hotel looks across a fabulous beach to the Akamas Peninsula and the baths of Aphrodite. The Thalassa Spa is a beautifully designed spa where you can go for a relaxing massage or revitalizing body treatment. Two tennis courts, a fitness center and an indoor squash court are available for guests wishing for a more active getaway. Scuba diving is exceptional. The resort has a dive center with two dive boats which let you explore reefs and underwater caves.
There is a wide variety of rooms available at the 177 room resort. Seven different classifications of rooms range from a Sudio Suite to the two-floor Alexander Residence. All rooms have a private balcony or terrace for outdoor dining and some have private plunge pools or whirlpools on the terrace, ideal for a romantic getaway. There are four restaurants, Amphora, Helios, Basiliko, and Pelagos. They offer a variety of international cuisine, including a fusion of Asian and Mediterranean cuisine at Basiliko. Guests who want to spend as much time as possible relaxing by the pool can dine at Pelagos, the pool-side restaurant. Anassa is a 45-minute car ride from Pafos airport and 2 hours from Larnaca International Airport. Click here for great island packages. Rooms start at (rates are in Cyprus Pounds) 113 for a Garden View Room, 780 for a 1-Bedroom Suite with a private pool, and 1,375 for the Adonis/Aphrodite Suites (+357 26 888000, website).
»

The Fairmont Dubai
The Fairmont Dubai in the United Arab Emirates is a chic hotel located near Dubai's business center, cultural attractions and shopping. The property is linked to the Dubai International Convention Center by a walkway for quick access. A visit to the spa is a good way to relax after a day of meetings. Willow Stream Spa features a range of treatments that can help you unwind and make you feel more energized. The wellness center has a beautiful relaxation lounge where you can calm your mind after a treatment. Facilities include two swimming pools, Jacuzzi and a fitness center where you can tone your muscles. Take a class at the aerobic studio. Afterwards, unwind in the sauna and steam room. Work out on your own or hire a personal trainer. Enjoy two terrace sundecks with handcrafted mosaic swimming pools. The property has extensive facilities for business travelers, such as high-tech individual virtual offices and meeting rooms on the Exchange Floor.
There are 266 guestrooms and 128 luxury suites which offer panoramic views of the city. All rooms are furnished in elegant contemporary style. easuring at least 440 square feet in size, Fairmont Rooms offer all the luxury essentials to business and leisure travelers. Fairmont View rooms have floor to ceiling windows and great views of the Arabian Gulf. The 890-square-foot One Bedroom Suite has separate sitting and bedroom areas, located on floors 10 through 32, offering spectacular views of Dubai. Two Bedroom and Large Two Bedroom Suites and a good choice for families and groups who want 1,125 square feet (105 square meters) of living space and plenty of space for entertaining. Royal Suite has three bedrooms, four bathrooms, kitchen and plush living spaces.
The 5,900-square-foot two-story Imperial Suite has huge windows along the whole length of the penthouse. The rooftop terrace is great for relaxing with a view during the cooler months. There is a state of the art Bose home entertainment system and an indoor Jacuzzi and the sun room. You'll be able to see as far as the Palm Islands on a clear day. Measuring 3,100 square feet in size, the Presidential Suite is located on the 34th floor high above the city. Choose from ten different restaurants and lounges serving an innovative menu, or order room service. Bed and breakfast rates start at 670 AED (888-363-5066, +971-4-332-5555, website).
»

Constance Lodge Tsarabanjina
Check into the ultra-private Constance Lodge Tsarabanjina which has just 25 bungalows on a white sandy beach in Madagascar. Spend your days relaxing in the sun, getting massages and watching the starry night sky. The island's beaches are soft, inviting you to kick off your shoes and surrender to relaxation.
»

Raffles Grand Hotel d'Angkor in Cambodia
Raffles Grand Hotel d'Angkor is a luxury hotel in the old French quarter in Siem Reap, Cambodia, Indochina. Surrounded by a 15 acre French garden, the property overlooks the Summer Palace and features a grand colonial facade. Inside, you will find a marble lobby, which is connected by Art Deco tile halls. The service at is impeccable. Staff members pick up guests at the airport and escort them to the waiting limo while immigration, luggage and visas are being processed. You will be just 8 kilometers from the famous temple complex of Angkor Wat and 15 minutes from the airport. Choose from 119 guest rooms and luxury suites, decorated in period style with local object d'art and Art Deco furnishings that reflect the heritage and architecture of the building. Guests get to experience traditional Cambodian elegance and charm while admiring impressive pictures of Khmer traditions in the walkway between rooms.
The State rooms are located in the new section, offering classic windows, French doors and attached balconies. Bungalow suites are located beyond the hotel's pool, offering guests additional privacy. There are four restaurants. Le Grand serves amazing Khmer cuisine, finely blending the best textures, aromas and flavors for an unforgettable experience. There are Frangipani trees all around the Poolside Terrace where you can savor light meals and spa dishes. Watch Cambodian dances at Apsara Terrace while sipping pre-dinner cocktails. Cafe d'Angkor serves continental and Asian meals. Visit the Elephant Bar, the best known bar in the country, for the signature cocktail of Raffles Grand. The Wine Cellar offers a fine selection of wines from across Asia. The Conservatory overlooking the gardens and pool serves afternoon tea and offers live piano music in the evening. Head to the Amrita Spa for aromatherapy, Ayurvedic treatments, body wraps, scrubs, beauty services and facials. The spa offers exclusive treatments Rooms at start at USD $480 per night (website).
More Great Honeymoon Ideas
Spa Honeymoon Trips
Take a bath under the night sky in a sunken marble bathtub at Amandari in Bali. Enjoy a romantic picnic on a secluded beach on Bedarra Island in Australia. Rent a villa with a private pool overlooking New Zealand's Bay of Islands at Eagles Nest. Spend your days relaxing in a honeymoon bure with a plunge pool and a large terrace on Yasawa Island, Fiji.
The Ocean Spa and Wellness Centre at Cambridge Beaches is a 10,000 square foot facilities with three pools, a fitness center, solarium, sauna, steam and beauty salon. Combined with the beautiful location of the resort, Cambridge Beaches is a great spa vacation getaway. Guests can choose from more than 100 relaxing treatments and beauty therapies. Signature Treatments include the Alternative Treatment, Oriental Wisdom, Spa Revitaliser, the Golfer's Handicap, Ocean Mud Reflex Therapy, Relaxation & Tranquility, Bermuda Shorts Cellulite Treatment, and Hydradermie Plus.
Visit the Spa at Charleston Place which will leave you pampered and rejuvenated. Set on the fourth floor of Charleston Place hotel, the spa is a full-service facility offering a range of treatments. Choose from traditional spa treatments such as Swedish Massage ($95 for 50 minutes, $150 for 80 minutes), or try something different, like the Seaweed Detoxifying Body Wrap ($110 for 50 minutes). After a soothing treatment at the spa, enjoy a healthy spa meal which incorporates fresh local produce to create delicious low-calories cuisine.
Spend a few days soaking in the Mexican sun on the historic Yucatan Peninsula, while receiving unique spa treatments at Maroma Resort and Spa. The Spa at Maroma has a meditative flotation chamber, outdoor spa pool and two beachfront massage areas. Therapies offered at the spa incorporate pre-Hispanic and Asian techniques. The Temazcal is a mayan-style steam bath that takes place inside a pyramid structure. Up to eight guests form a circle while herb-infused water is poured over heated volcanic rocks. After 50 minutes, mud is spread over the body and allowed to dry, followed by a plunge into the azure waters of the Caribbean Sea. The Temazcal costs around $90 USD. Other treatments you can try on your spa vacation include lymphatic massage, Reiki, hot stones, relaxing back massage, reflexology, four hands, deluxe aroma and couples massage, a relaxing honeymoon idea.
More Beach Honeymoons
Sometimes the best way to make your vacation seem longer is to try new activities, such as scuba diving, mountain biking and surfing. For scuba diving and snorkeling, few places are better than the Great Barrier Reef in Australia. At Lizard Island you can take introductory scuba diving courses, or try tennis, snorkeling, glass bottom boat rides and sport fishing. Closer to home, great places to scuba dive include Maui, Virgin Gorda and the Bahamas.
Thinking up romantic ideas for special occasions does not come easy to everyone. The answer? The Romance Director at L'Auberge Del Mar Resort and Spa in Southern California can help you plan just about anything. Exciting adventures include a day on safari with dinner, hot air ballooning, sky writing a message during sunset, a spa package for two, whale watching, limousine tour of Temecula wine country, a bottle of wine with a custom made message, and many more. All you need is your credit card and the magic phone number - 800-553-1336. And even if you decide that none of these romantic ideas are right for you, a stay at L'Auberge Del Mar Resort and Spa is bound to rekindle your romance. Delicious food, pampering service and beautiful views are just some of the things this resort in Southern California has to offer.
The Great Barrier Reef is located off Australia's east coast. Australia's seasons are the opposite to those of the northern hemisphere. The Great Barrier Reef is comprised of many tropical islands covering over 115,000 square miles. It offers warm weather, sandy beaches, and some of the greatest snorkeling and scuba diving spots in the world. There are many types of coral, fish, dolphins, whales and green turtles.
For Couples Who Golf Together
Known as one of the best golf courses in the Caribbean, the 18 hole championship golf course at Provo Golf & Country Club is located on Providenciales island in the Turks and Caicos. Spend your golf vacation in a tropical setting with lush greens and beautiful views. At Provo Golf & Country Club, you can even combine golf with bird watching since one can spot white herons, pink flamingos and other species near the inland lakes and marshes. The club has a Pro Shop, a Colonial Clubhouse and Fairways Grill. An 18-hole round of golf costs $130. For more information and reservations, visit www.provogolfclub.com or call the Pro Shop at 649-946-5991. If you are looking for a place to stay nearby the Grace Bay Club offers luxury suites starting at $395 per night.
Play golf in Vermont at the Basin Harbor Club which features a 18-hole golf course. Greens fees start at $50; carts are $35; rental clubs $22. Located on Lake Champlain, there resort also offers swimming, fishing and many other things to do in the summer. The Basin Harbor Club's 18-hole golf course just became the fist Certified Audubon Cooperative Sanctuary in Vermont. The golf course received this distinction because of its careful wildlife management, water conservation and chemical use reduction.
Jekyll Island is Georgia's largest public golf resort with three 18-hole courses and Oceanside, a 9-hole short course. The Oleander and Pine Lakes golf courses were designed by Dick Wilson. Pine Lakes has recently undergone a renovation which added two new lakes at the 7th and 9th greens and increased the size of the 4th and the 18th greens. The Indian Mound course, designed by Joe Lee, offers beautiful views of the island's lakes and woods. Jekyll Island Golf Club features a driving range, practice bunker and putting greens. If you are looking to improve your game, a staff of PGA teaching professionals can provide individual instruction. Greens fees start at $35 for Oleander and Indian Mound courses; at $45 for Pine Lakes. For reservations, call 912-635-2368. Jekyll Island offers a range of accommodations. Jekyll Island Club, a National Historic Landmark, offers complementary transfers to and from the golf club.
Cultural Trip
With its romantic hotels, delicious food and fabulous views, Italy is an ideal destination for a romantic honeymoon. After spending a few days exploring Venice, Florence and Rome, head to one of the hotels on the Italian coast where you can unwind next to a pool. Stay at La Posta Vecchia, Hotel Santa Caterina, Palazzo Avino or the Capri Palace Hotel & Spa.
Adventure Honeymoon
The Teton Range is 40 miles long and 7-9 miles wide. While you travel along the Jackson Hole Valley, you can enjoy beautiful views of the mountains. Grand Teton is the highest peak in the range with an elevation of 13,770 feet. There are twelve peaks over 12,000 feet in elevation. Although Grand Teton presents a demanding climb, it attracts more than 3,000 climbers per year. Mount Owen is named for Teton climbing pioneer William Owen.