Looking to get away for a weekend of relaxation, rejuvenation and fun activities? The properties that made our list offer couples something unique, from side-by-side massages to romantic sunsets over the water. Enjoy romantic gourmet dinners, candlelit baths and rose petal turn-downs. Try new activities, go on scenic bike rides, take golf lessons and play a game of tennis. If you are looking for ideas from specific cities, we've already written about amazing weekend escapes from New York City, San Francisco, Seattle, Atlanta, San Diego, Los Angeles, Chicago and other cities.
Don't miss out: Join us! - our best ideas in your Inbox.
»

Two Bunch Palms in Desert Hot Springs
[Two Bunch Palms]
Two Bunch Palms in Desert Hot Springs, California is an adult-only getaway with its own source of mineral water. The resort has newly renovated rooms on 77 acres, including 13 suites with outdoor patios. Wellness Spa has 19 treatment rooms, mud baths and water therapy pools. Facilities include a lap pool, great lawn, tennis courts, a fitness room, labyrinth, nature trails, turtle pond and a 3,000-square-foot yoga space.
Immerse yourself in the healing waters of the Grotto and enjoy a diverse selection of treatments such as outdoor massages, watsu, clay masks and mud therapy. Stay in shape by joining 35 weekly movement and enrichment classes. Essense restaurant at Two Bunch Palms serves farm-to-table cuisine in an intimate setting. The 4-acre solar field installation, scheduled to be completed by the end of March, 2015, will make Two Bunch Palms the first carbon-neutral resort in North America. Rates start at $309 per night (760-329-8791, website).
You may also like: 22 Best California Weekend Getaways.
»

The Redbury Hollywood
[The Redbury Hollywood]
Check into one of the 57 luxuriously appointed suites at the Redbury Hollywood and feel like a celebrity for a weekend. Guest accommodations are decorated with design elements inspired by old-world cultures. In addition to a spacious layout and great service, guests enjoy plush amenities such as a washer & drier, 46-inch TVs and European-style kitchens.
Take a complimentary BMW house car to one of the nearby shops, book a massage in the privacy of your own suite and have a romantic dinner at Cleo which serves nouveau Middle Eastern cuisine. Rooms start at $323 per night (website).
You may also like: 50 Best Florida Weekend Getaways.
»

Winvian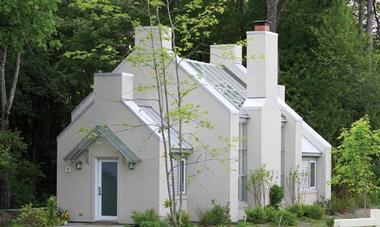 [Winvian]
Winvian in the Litchfield Hills of Connecticut is set on 113 acres with a lush forest and lakes, enough to attract anyone wanting to escape the hectic city life. But this retreat didn't stop there - the owners hired 15 architects to come up with totally unique guest cottages. Each has a different shape and theme, such as the Greenhouse for plant lovers, the library for the book worm, and the helicopter cottage that resembles a hangers, ideal for aviation fans.
You can visit the spa for a luxurious couples massage, have a romantic dinner and enjoy an array of outdoor activities. The romantic inn is located about two hours from New York City and Boston, a quick weekend getaway from both cities. Activities that couples can enjoy together include hiking, biking, horseback riding and snow-shoeing in the winter.
Couples who have been everywhere and have seen everything should rent the Helicopter Cottage. In the morning, wake up with a 17,000 pound 1968 Sikorsky Sea King Pelican HH3F at the foot of your bed. The interior of the helicopter is a cozy lounge where you can have drinks and watch TV. The cottage is designed to resemble a cozy helicopter hanger, complete with a charming red exterior and a fireplace. You'll have a view of the helicopter even from the bath tub. If you want to brush up on your cooking skills, Winvian offers fun cooking classes designed to address particular ingredients such as fish, salads or poultry dishes. The hotel received a five AAA Diamond award for its accommodations as well as its fine-dining restaurant. Cottage rates start at $459 per night (860-567-9600, website).
You may also like: 25 Best Weekend Getaways from New York City.
»

Lake Placid Lodge
[Lake Placid Lodge]
A five-hour drive from New York City and Boston, the Lake Placid Lodge is a romantic getaway surrounded by the Adirondack Mountains and the picturesque Lake Placid. Spend a relaxing weekend hiking, fishing, horseback riding and mountain biking. In the summer, guests can go swimming, fishing, kayaking, canoeing, and electric boat rides on the lake. In the winter, take dog sled rides, go ice fishing, cross country skiing and snowshoeing. At the end of the day, request an in-room massage in front of the large stone wood-burning fireplace in your room.
The lodge has 17 guest room and 17 lakefront cabins decorated in a luxurious yet rustic style. In addition to a fireplace, most rooms have deep-soaking tubs, double headed showers and scenic views of the surrounding lake and the mountains - a beautiful setting for a couples' getaway. Each guest room is unique in layout and design, and some guests request the same one every time they return to the lodge. The restaurant serves innovative New American cuisine with a French twist and local organic farm ingredients. Adirondack breakfast and afternoon tea are included in the room rate. Rates start at $649 per night. Guests must be at least 14 years old (518-523-2700, 877-523-2700, website).
»

Windsor Court Hotel
[Windsor Court]
In New Orleans, a city filled with French and Spanish history, this stylish hotel stands out with its English manor ambiance. Located in the heart of the business district, the Windsor Court Hotel has a stunning rooftop pool, great restaurants and five star accommodations. Inside, guests find 17th and 18th antiques, period reproductions, and rooms with original works of art. There are 316 rooms and suites with scenic views of the Mississippi River and the city skyline. If you are planning a special celebration, splurge on the Presidential Suite on the 22nd floor of the hotel, especially popular with celebrities. The Presidential Suite has a secluded terrace with spectacular river views, a library, full kitchen and a baby grand piano.
Work out at the health club which has a steam room, sauna and massage facilities. Ask about the Duet Suite at the spa. The outdoor pool and sundeck are a great place to unwind with a view. Traditional Afternoon Tea is served daily at Le Salon, accompanied by live music. The Grill Room serves innovative southern cuisine in an elegant setting, and offers an extensive wine list. Rates start from $360 per night (800-262-2662, website).
»

Blackberry Farm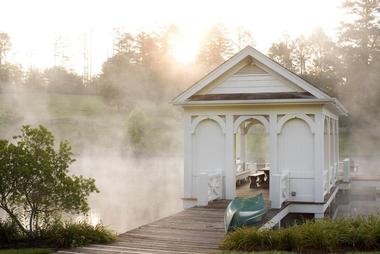 [Photo Credit: Beall + Thomas Photography]
Blackberry Farm is a luxury getaway situated in the foothills of the Great Smoky Mountains of Tennessee. The resort offers great mountain views, comfortable ambiance, a spa and fabulous cuisine. Throughout the year, the hotel hosts cooking classes with famous guest chefs. Activities include fly fishing, tennis, horseback riding, cycling, clay shooting, paddle sports, hiking, archery, garden tours and cooking demonstrations. Fly fishing is available on Hesse Creek on the 4,200-acre property and nearby in the Great Smoky Mountains National Park. The resort also offers a fly fishing school. Treatments at the Farmhouse Spa include Swedish and sports massage, reflexology, Shiatsu, body treatments, facials, and beauty treatments. Private spa rooms have scenic meadow and mountain views.
There are 62 guest rooms and suites, decorated with English antiques, art pieces and feather beds. The guest rooms are situated in five separate areas, including the Main House, Guest House, Holly Glade Cottages, Cove Cottage and Gate House. All of the cottages have a living room, a romantic fireplace and a stone veranda with signature rocking chairs. Guests dine at the Main House in the Laurel, Mountain, Rhododendron and Azalea dining rooms as part of the Full American Plan. The property is located ten minutes from the Great Smoky Mountains National Park. Enjoy the outdoors, beautiful scenery and a picnic lunch in Cades Cove. Summer is the best time to visit the area because of warm weather. You can fly to Knoxville's McGhee-Tyson Airport and rent a car at the airport. The property is about 1 hour by car from downtown Knoxville. Expect holiday weekends to be busy, especially Easter, Memorial Day and Labor Day. Rates start at US $645 per night (plus tax and service charge) with a required two-night minimum stay. Room rates include a Full American Meal Plan with breakfast, lunch and dinner. There is complimentary on-site fly fishing, hiking, mountain biking and tennis (865-984-8166, website).