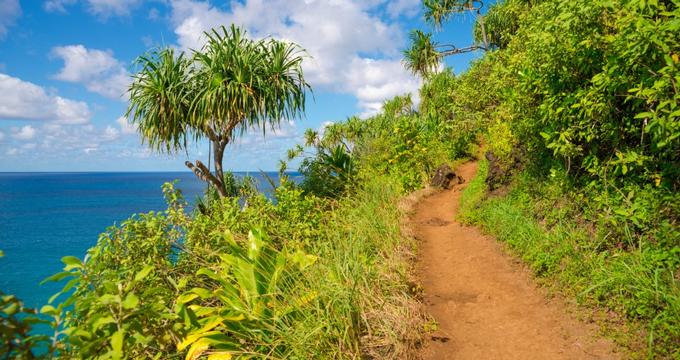 25 Best Places to Visit in Hawaii

The sundrenched Hawaiian archipelago is made of up of eight major islands surrounded by numerous atolls, bays, and inlets in the heart of the Pacific Ocean.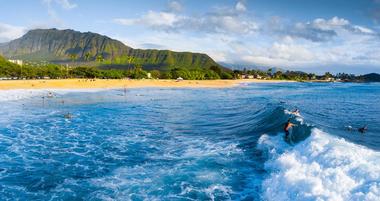 15 Best Beaches on Oahu, Hawaii
Travel to the beautiful island of Oahu and explore its spectacular beaches.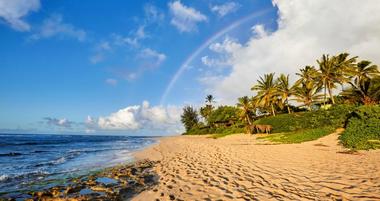 25 Best Things to Do on Oahu
Oahu, one of the Hawaiian Islands, is a gorgeous place in the South Pacific that is home to the city of Honolulu, Hawaii's capital.
Hawaii Vacation Ideas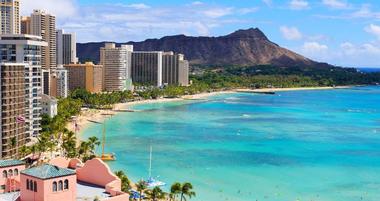 25 Best Hawaii Resorts
You can find options that let you feel connected with the islands' natural beauty and those from national and international hotel chains that feel nearly the same as they would in any other destination, just surrounded by beautiful landscapes.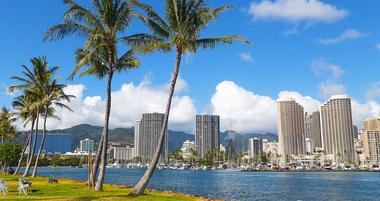 25 Best Things to Do in Honolulu, Oahu
Hawaii is a world of its own – exotic, mysterious, ancient, and very much alive – and Honolulu is its beating heart.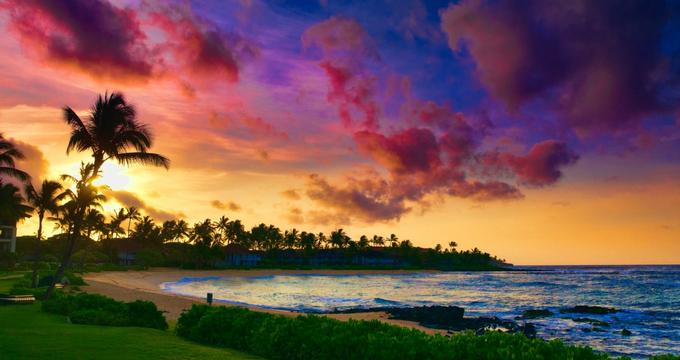 22 Best Things to Do in Hawaii
Hawaii is a perfect destination for families as well as romantic honeymooners and everyone in between.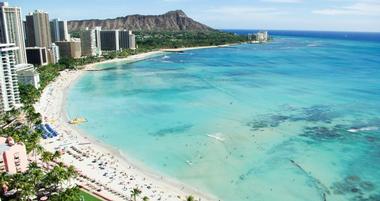 23 Best Beachfront Hotels & Resorts on Oahu, Hawaii
The island of Oahu is home to Hawaii's capital city of Honolulu, the famous Diamond Head volcanic cone, and a number of amazing Hawaiian beaches.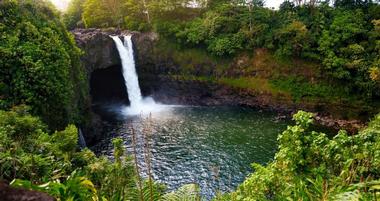 25 Best Things to Do in Hilo, Hawaii
Hawaii conjures up images of gently swaying palms, shimmering turquoise waters, and footprint-free, sugary-white sand beaches, and it doesn't disappoint.
More Feature Stories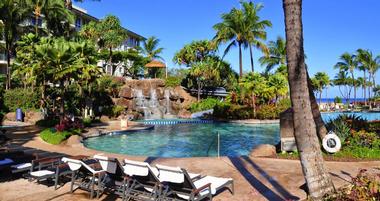 25 Best Romantic Getaways on Maui
Known for its breathtaking beaches, the island of Maui is the perfect place for your next dream vacation.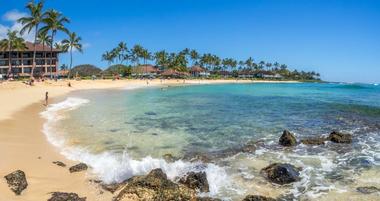 25 Best Kauai Beachfront Resorts
There's a good reason why Kauai is often referred to as the Garden Isle: This beautiful island is largely covered with lush greenery and tropical plants.
Weekend Getaways

Hawaii Travel Guide - Tips for Visitors
When planning a romantic getaway to Hawaii, the first thing to decide is whether you want a secluded getaway or a trip that includes shopping and people watching. For best nightlife, a choice of restaurants and other activities, visit Waikiki Beach on Oahu. The Royal Hawaiian hotel, also known as the Pink Palace because of its pink facade and interior decor, and Halekulani are popular with honeymooners and couples looking for romance. Hawaii offers a great selection of resorts with spas where vacationers can relax with unique spa treatments, work out, take yoga classes and rejuvenate in the tropics.
The Hawaiian Islands with the Family
The Hawaiian islands are very nice for families - there are many sandy beaches, spas, golf courses and resorts with programs especially for kids. On the Big Island, the Mauna Kea Resort is home to two hotels - Hapuna Beach Prince Hotel and Mauna Kea Beach Hotel. The resort offers golf, tennis and a children's program. Popular watersports include snorkeling, scuba diving, outrigger canoe paddling, sailing, kayaking and catamaran rides.
For families who like to visit museums, aquariums and historic attractions, hotels on Waikiki Beach offer rooms for all budgets. Two large Hilton resorts feature golf, spas and programs for the whole family. Hilton Waikoloa Village is located on the Big Island and Hilton Hawaiian Village on Oahu.
Hawaii Vacations: Adventure
Adventure trips in Hawaii range from scuba diving and kayaking to mountain biking down Haleakala and hiking in Volcanoes National Park. Many vacationers rise early to watch the sunrise at 10,000 feet in Haleakala National park. If you are up for it, adventure companies offer mountain biking down the slopes of Haleakala in Maui right after the sunrise. There are also many scenic golf courses. Be sure to check for packages that include activities to save on your trip.
Hawaii Vacations: Waikiki
Waikiki Beach is a two-mile stretch of sand located on Oahu which offers numerous activities, including snorkeling, surfing, canoeing and relaxing in the sun. Waikiki is lined with hotels, condominiums and vacation rentals where vacationers who do not mind crowds can step directly onto the beach.
Vacationers on Waikiki Beach can take surfing lessons, participate in a whale watching excursion, or simply relax in the sun. There are several restaurants featuring Italian, Japanese, Pacific Rim, Mexican, American and Continental cuisine.
Near the Diamond Head Crater side, there are several picnic areas. Kapiolani Park is a 170-acre public park with picnic facilities. The park is also the setting for concerts and other cultural events. Planning a visit to Waikiki: There are numerous hotels and condominiums to choose from. In fact, the whole 2-mile beach is lined with hotels.
Major Tourist Attractions in Hawaii
The Hawaiian islands offer many things to see and do, including famous vacation destinations like the Haleakala National Park, USS Arizona Memorial and Hawaii Volcanoes National Park.
Hawaiian Vacations: What to See on Oahu
Waikiki Beach, one of the most famous and popular beach vacation destinations, is a two-mile stretch of coast fronted by hotels. Waikiki Beach offers warm waters and sandy beaches. You can enjoy snorkeling, surfing and relaxing in the sun.
Sunset Beach, located on Oahu's north shore, is a great surfing site during the winter with fifteen to twenty-foot waves. In the summer when the waters are calmer, you can swim and snorkel.
Visitors can learn about Pearl Harbor at the USS Arizona Memorial Visitor Center and take a ferry to the USS Arizona Memorial. You can also go below the deck of the Bowfin, a World War II submarine.
Founded in 1904, the Waikiki Aquarium is the third oldest public aquarium in the United States. It is home to over 2,500 animals representing more than 420 species. The Waikiki Aquarium is located in Queen Kapiolani Park, on the southern shoreline of the island of Oahu.
Restaurants, shopping and watersports attract visitors of all ages to Waikiki. Keiki Aloha Program at the Sheraton Waikiki is open to children ages 5 to 12 staying at any Sheraton Hotel in town (there is a fee). Parents and family members can participate on certain days. This children's program is available to guests staying at the Royal Hawaiian, the Moana Surfrider, the Princess Kaiulani. Ten minutes by car from Waikiki, The Kahala Hotel offers families more seclusion, a children's program and six Atlantic Bottlenose dolphins.
The Big Island
Hilton Waikoloa Village on the Big Island of Hawaii features the 25,000-square foot Kohala Sports Club and Spa, complete with fitness facilities and spa services. You can sign up for one of their vacation packages or enjoy single treatments.
Mauna Kea Beach Hotel has several massage rooms, sauna and a steam room. The resort also offers packages.
Hawaii Vacations: Maui Attractions
Maui offers a selection of different activities, ranging from ultra-relaxing to adventurous. There are many luxury resorts, a dormant volcano and 39 beaches with public facilities. Some of the popular activities include shopping in the old whaling town of Lahaina and watching the sunrise at Haleakala National Park. Maui is the second largest of the Hawaiian islands.
The County of Maui includes Molokai and Lanai which can be reached by ferry from Lahaina. Whether you like exploring diverse bays, hiking in a dormant volcano, shopping or relaxing at a luxurious spa, Maui offers a bit of everything. Accommodations range from inexpensive condos to five star rooms and suites overlooking the Pacific. Be sure to look for packages.
Grand Wailea Resort has a luxury 50,000 square foot spa facility which offers a selection of massages, facials and Hawaiian baths. Travassa Hana is a secluded Hawaiian retreat located on 30 oceanfront acres. The Wellness Center offers a number of treatments and fitness classes. Services include traditional Thai massage, hot stone massage, Hawaiian Lomilomi, reflexology, Shiatsu, Polynesian body scrub, Reiki Therapy and skin care services. Fairmont Kea Lani Maui offers body treatments, facials, massages, as well as treatments just for men.
Haleakala National Park extends from the 10,023-foot summit of Haleakala, the largest dormant volcano in the world, to the Kipahulu coast near Hana. Hike the national park, enjoying waterfalls and beautiful scenery.
A hot summer body surfing spot, Slaughterhouse Beach is located in northwestern Maui. Enjoy snorkeling and Hawaiian marine like including colorful fish and turtles.
The Big Island of Hawaii
Hawaii Volcanoes National Park is home to two active volcanoes Mauna and Kilauea. Park visitors can enjoy hiking, bird watching, stargazing, wildlife viewing and other activities. Kilauea Visitor Center, located just inside the park entrance, offers visitor information and exhibits. Films and videos are shown in the auditorium throughout the day. Located 3 miles south of Hilo Airport on Highway 11, Nani Mau Gardens offer 20 acres of gardens, including the European Garden, the Anthurium Hapu'u Fern Garden, the Orchid Garden, Water Gardens. Stroll through the gardens and enjoy the beautiful collections of flowers. Akaka Falls State Park offers a 0.4-mile walk to scenic vista points, Kahuna Falls and 'Akaka Falls.
Hawaii Vacations - Kauai
Fern Grotto is a fern-fringed cave only accessible via the Wailua River.
The Na Pali Coast offers panoramic views, a tropical forest and rugged coastline.
Hawaii Vacation for Honeymooners
The Hawaiian islands are so diverse that you can spend your honeymoon on a secluded beach, or experience the excitement of shopping, nightlife and people watching in Waikiki on Oahu. The islands are home many great honeymoon resorts.
Navigate the famous Hana road along the east coast of Maui and you will end up at Travaasa Hana, a paradise for honeymooners who crave seclusion and luxury service. You can get pampered at the spa, eat delicious meals, head to the beautiful Hamoa Beach, or hang out next to one of the hotel pools.
For those who prefer a large resort, Maui offers many choices, including the Fairmont Kea Lani and the Grand Wailea Resort. If you are planning to play a lot of golf, Kapalua Resort on the West Coast of Maui offers two championship golf courses and luxury accommodations, including The Ritz-Carlton, Kapalua.
A wide choice of activities can be found on Oahu where you can go shopping, scuba diving, visit a museum, take a surfing lesson and enjoy island nightlife. Waikiki offers several unique honeymoon hotels. If you like pink-inspired decor, stay at the historic Royal Hawaiian hotel. Or book a luxury room with a view of the ocean at Halekulani Hotel.
The Kohala Coast on the Big Island is another great spot for couples who can choose from a number of sandy beaches and accommodation options. The Fairmont Orchid is a luxury hotel located at the Mauna Lani Resort, complete with a spa, private beach and many water based activities. Book a couples' massage at the spa in one of the huts over the man-made waterfall. If you prefer, you can rent one of the condos in the area which often end up being more affordable. Mauna Lani Bay Hotel is another romantic option.
Hawaiian vacations - Insider Tips
The Hawaiian archipelago stretches for 1,500 miles in a line from southeast to northwest. Hawaii is the biggest island, followed by Maui, Oahu, Kauai, Molokai, Lanai, family-owned Niihau and uninhabited Kahoolawe. Honolulu, located on Oahu, is the eleventh largest city in the U.S.
Getting There: Most major US and international carriers fly to Honolulu International Airport. Neighboring islands are serviced by direct daily flights or via Honolulu, depending on your point of origin. There are also a few cruise and ferry services between the islands. Taxis and car rentals are readily available at the airports. From San Francisco, approximate flight time to Honolulu is 5 hours. If you are flying to Honolulu from the East Coast of the United States, you will probably have to change planes and total travel time will be from 11 to 16 hours. From Honolulu, flight times to other islands range from approximately 30 minutes to 1 hour and 30 minutes.
Best Time to Go: This is a year-round tropical destination with most visitors in the winter months from December to February. If you go in the summer, late spring or fall, you should be able to find relatively good hotel and airline deals. The waters are the calmest in July and August, great for snorkeling and diving.
Getting Around: If you would like to explore the islands and look for that perfect secluded beach, you should rent a car, motorcycle or a bicycle. Although car rentals are readily available at the airportss, you should make a reservation before you get there. Properties often offer packages that include a car rental.
The Weather: The weather is warm year-round with the average daytime high temperature at 85 degrees Fahrenheit in the summer and 78 degrees Fahrenheit in the winter. Rainfall varies by location - the windward shores receive more rain than leeward sides. The volcanic peaks serve as a natural barrier between the rainy and the dry side.
Beach Safety Tips
On any beach vacation you are going to be concerned with the weather, the water, and the crowds at the beach. Hawaii has many spectacular beaches. Some are tiny resort front beaches packed with sunbathers, while others are remote beaches five miles long without a single tourist. Your trip to the beach will be much more enjoyable if you remember to take several precautions when you go.
Many of the beaches in Hawaii are in remote locations and have no lifeguards so you should be extra careful when swimming. If you do plan on going to a beach with no lifeguard, ask someone who has been there before about the beach.
If you are at a remote beach that doesn't look very good for swimming (weather, waves and currents vary every day) then take plenty of pictures, have a picnic lunch, and get some sun but just don't swim.
Check the signs at the beach for information on the currents, waves, and jellyfish.
If there is a lifeguard at the beach ask them if there is anything you should know about the beach before you swim. (They can also tell you where the best snorkeling spots are.)
Always snorkel with someone so that you can watch out for each other.
Be aware of your position relative to the rocks. Very often people get stuck staring at the schools of fish below them and don't realize they're headed for the rocks.
Never turn your back to the waves you may get clobbered.
If you rent a little paddle boat or kayak from your resort, remember that the currents on Hawaii can be very strong so don't go too far out unless you are an experienced paddler.
A rashguard will help prevent sunburn if you are going to be in the water for awhile. Rashguards are great for kids who usually spend all day running around the beach.
Always wear plenty of sunscreen. (Especially on the first few days of your vacation.)
Oahu Vacation Ideas
Hawaii's Plantation Village
The Hawaii's Plantation Village offers a glimpse into the past of plantation workers who arrived to Hawaii between the late 1800s and the 1940s. This outdoor museum consists of furnished homes, community structures, Asian art, antiques and relics. The historical museum is located on a 50-acre site. Guided tours of the Village are conducted at the start of each hour Monday through Friday from 9 am to 3 pm. On Saturdays, tours start at 10 am. General admission cost is $10; $7 for seniors; $4 for children ages 5 to 17; free for kids under 4. For more information, call the museum at 808-677-0110.
The Hawaii State Art Museum
Dedicated to showcasing the best art pieces by Hawaiian artists, the Hawaii State Art Museum is located in Honolulu, Hawaii. The museum's inaugural exhibition includes 360 works from the 1960s to the present. The museum is open from Tuesday to Saturday from 10 am to 4 pm and closed on all state and federal holidays. Admission to the museum is free.
The Polynesian Cultural Center
Located on Oahu's North Shore in Laie, Hawaii, the Polynesian Cultural Center features a number of hands-on cultural experiences and shows. You can watch the Alii Luau, the Rainbows of Paradise canoe show, shows at the IMAX Theater and the evening show Horizons: Where the Sea meets the Sky.
The Center is home to different villages and exhibits set on 42 beautiful acres. The Polynesian Cultural Center features the people and islands of Hawaii, Tahiti, Tonga and more. The attraction is open Monday through Saturday. It is closed on Sundays and certain holidays. Driving time to the Center is is about one hour from Waikiki. Tickets can be bought online at www.polynesia.com or by calling 800-367-7060.
The Honolulu Academy of Arts
The Honolulu Academy of Arts is Hawaii's oldest and largest art museum founded in 1927. 30 galleries surrounding six garden courts exhibit collections of Asian, European, Pacific, American and African art. The Academy's initial gift of approximately 4,500 works of art from founder Anna Rice Cooke has been expanded to the corrent collection of over 34,000 pieces. The Asian collection consists of over 16,000 objects from China, Japan, Korea, Southeast Asia and India. Most Asian art pieces are Chinese and Japanese, including paintings, sculpture, ceramics, lacquer ware and prints.
The Honolulu Academy of Arts is open from Tuesday through Saturday 10 am to 4:30 pm; Sundays 1 pm to 5 pm; closed Mondays and certain holidays. Admission costs $7 for adults; $4 for seniors, students and military; free for kids under 12 and academy members. Admission is free on first Wednesday of every month. For more information and to confirm opening times, call the museum at 808-532-8700.
World Invitational Hula Festival
The festival strives to preserve the Hawaiian culture and history. Visitors can enjoy traditional dances of hula in an outdoor setting. To get into the mood of the festival, vacationers often wear a lei. Visitors can bring a picnic lunch or purchase dinner at a concession stand. Several local vendors sell local arts and crafts. Hula dancing begins at 5:30 p.m. The event takes place in November. Performances feature artists from Hawaii, the mainland, the Orient, Mexico and Europe. Tickets cost from $5 for lawn seating to $25 for Judges' Golden Circle. Children under 4 years old can enter free of charge. Tickets become available in October at the Blaisdell Center Box Office in Honolulu, Hawaii, and through Ticket Plus at (808) 526-4400.
Snorkeling at The Hanauma Bay Nature Preserve
The Hanauma Bay Nature Preserve is the perfect destination for snorkeling in Hawaii. The large bay, long curved sandy beach, and abundant marine life are ideal conditions for snorkeling.
The Hanauma Bay Nature Preserve was was declared a protected marine life conservation area and underwater park in 1967. The large cliffs on either side of the bay protect it a keep the water in the bay calm and increase visibility underwater. Snorkeling gear can be rented at the bay and there are life guards on duty daily. You may want to check if you can rent a mask and fins from your hotel so that you can save time by not having to stand in line at the beach. Since the bay is a nature preserve you cannot feed the fish, but you won't need to as they will approach you out of their own curiosity.
Hanauma Bay Nature Preserve is about ten miles east of Waikiki just off of route 72. Driving there is easy but you waill ahve to leave early if you want to get a parking spot. Getting one will make your day that much easier and you will beat the crowd to the beach as well. The Bay is open every day, except Tuesdays, from 6am. to 6pm. Admission to the park is $5 per person.
How to Get to Oahu
The airport in Honolulu is the largest of all airports in Hawaii and most major airlines fly there. Waikiki Beach is about 30 minutes by car from the airport, although the trip will take longer during rush hour).
Lanikai Beach
The phrase Lani Kai translates to "Heavenly Sea," and as soon as you step onto Lanikai Beach, you see the true meaning of the name. The beach is lined with soft white sand that makes for great sun bathing and endless relaxation. Consistently ranked among the best beaches in the world, Lanikai Beach is one of the few beaches on Oahu with no break waves. From the beach you can treat your eyes to the lovely view of the Mokulua Islands that are just a mile away from the beach. Kayakers will also enjoy these islands, as they are easy to get to by water. Snorkelers will be delighted by the stunning reef patches underwater, and the beach is perfect for beginner and experienced snorkelers alike.
Napili Beach
Napili Beach is located on the island of Maui. It has gorgeous white sand that attracts locals and visitors from all over the world. The spectacular location of the beach between two rocks gives it a peculiar advantage over other beaches. The beach is famous for its strong sea breaks during winter, which attracts many surfers and body boarders. Monk seals are known to be seen here year round. The sea floor gets deep quickly, thus visitors need to be careful, especially children and those who are weak swimmers. The surrounding hotels on the beach are always booked due to the popularity of the area, so guests looking to stay here should book early.
Akaka Falls State Park
Akaka Falls State Park located in Honomu, features the twin falls of Kahuna and Akaka. The Akaka Trail brings hikers through tropical vegetation to vista points overlooking the 442 foot tall Akaka Falls, and the smaller Kahuna Falls. This enjoyable quarter mile uphill hike takes visitors through a lush rainforest offering stunning viewpoints on a paved route with multiple steps that make the path easier to follow. Make sure to bring a camera with you if possible, as the views are picturesque and vast. Visitors are advised to stay on the trail, and to take out what you take in. Weekday mornings are the best time to visit since the park is less packed and the sun is high enough in the sky to illuminate the falls.
Top