Beaches around the world offer couples and honeymooners a chance to relax in the sun, snorkel and go on romantic sunset walks. Our list was created to inspire your next holiday, whether you are looking for a remote tropical island escape or a great beach resort closer to home. If you live on the West Coast, head to Southern California, Oregon or Mexico. If you are traveling from the East Coast, many of the Caribbean islands such as Barbados and the Bahamas are just a short flight away. Jamaica offers unique cottages for couples with open views of the water.
Don't miss out: Join us! - our best ideas in your Inbox.
»

Viceroy Riviera Maya
[Viceroy Hotel Group]
A secluded getaway overlooking the Caribbean Sea in Mexico, Viceroy Riviera Maya is a perfect beach getaway for grown-ups. Whether you are on your honeymoon or just want to get away from it all, the resort offers attentive service, calm surroundings and Mayan-inspired spa treatments. Couples are accommodated in 41 luxury villas with private pools, outdoor terrace, handmade crochet hammock and outdoor shower. The villas are very private since they are surrounded by tropical jungle gardens. If this is your honeymoon, splurge on the Presidential Villa which has a romantic 2nd floor bedroom overlooking the water. Order room service so that you can spend your days relaxing next to the villa's oversized pool and enjoying the view from the terrace. The Spa offers relaxing spa treatments with holistic touches. Treatments incorporate herbs native to Mexico's Mayan Riviera. Resort guests have access to the steam room, jacuzzi and Swiss showers. Right next to the water, there is a spa area for the Temazcal bath. Vacation activities include horseback riding, fishing, boating, snorkeling, scuba diving, parasailing and romantic walks down 7 miles of white sandy beach. La Marea serves refined Mexican cuisine accented with international influences while the Coral Grill & Bar serves a Mexican-Mediterranean menu. Rates start at USD 393 per night (website).
»

Cobblers Cove in Barbados
[Cobblers Cove]
Cobblers Cove is an all-suite hideaway in Barbados, perfect for couples and honeymooners. The hotel has a freshwater swimming pool, a spa and a reef for easy snorkeling adventures. Choose from 40 romantic suites which are housed in ten two-story cottages (four suites in each cottage). The Camelot Restaurant is one of the best on the island, located right on the ocean's edge. Head to the bar for fresh juices and sunset cocktails. Vacationers have access to a variety of complimentary water sports, including wind surfing, water skiing and diving. If you want to play golf, tee times can be arranged at scenic courses nearby. The hotel is 18 miles from the Grantley Adams International Airport. Suites start at $592 per night (246-422-2291, website).
»

The Flamboyant Hotel & Villas, Grenada
[The Flamboyant Hotel]
The Flamboyant Hotel & Villas is an elegant Caribbean retreat located on the idyllic 'Spice Island' of Grenada. Built on a steep hillside, guest rooms and suites offer spectacular views of Grand Anse Beach. Rooms are light and bright, with crisp linen, colorful décor and cool tiled floors. Ask for a room with a private balcony for perfect sunset watching. The hotel features a lovely freshwater swimming pool and sun deck where you can relax with a drink and soak up the views, or you can make use of the complimentary snorkeling equipment provided by the hotel and explore the bay. Don't miss the opportunity to dive the underwater sculpture park just off the island. Overlooking Grand Anse Beach, the Beachside Terrace Restaurant serves a sublime fusion of Caribbean and continental cuisine with local spices and flavors, while the Beach Cabana offers a more relaxed, laid-back ambiance and delicious buffets. Head to the Owl Sports & Beach Bar for a casual menu and delicious cocktails. Rooms start at $185 per night (website).
»

Carimar Beach Club, Anguilla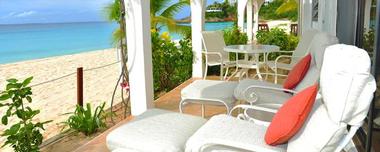 [Carimar Beach Club]
Resting on the beautiful white sands of Mead's Bay Beach in Anguilla, Carimar Beach Club offers luxurious Caribbean beach villas, excellent service and stylish interiors. The villas are equipped with modern kitchens, spacious bathrooms and private balconies, perfect for relaxing with a view. Dining choices include five restaurants and bars around the resort, or you can have delicious meals prepared in the privacy of your beach villa. Snorkeling on the local reef is a must. Other fun activities to try include sailing, fishing and romantic cruises. Rates start at $230 per night (website).
»

Honua Kai Resort & Spa, Maui
[Honua Kai Resort & Spa]
Boasting stunning views from its oceanfront location in Maui, Honua Kai Resort & Spa is a luxurious boutique hotel and spa that provides a tranquil and exclusive retreat in true island style. Beautifully appointed rooms and suites feature spacious interiors and modern Hawaiian décor with comfortable furnishings in warm, natural hues. Lovely en-suite bathrooms offer lavish bathtubs and rainfall showers, with bespoke toiletries, bathrobes and slippers. Guest accommodations have modern amenities and private balconies with spectacular views over the Pacific Ocean. Relax with a soothing massage or in the sauna at Ho'ola Spa after a morning of water sports at the beach, or lounge next to the swimming pool as you soak up amazing ocean views. Dine at Duke's Beach House, where you can have authentic Hawaiian fare surrounded by beautiful views. Aina Gourmet serves delicious snacks and meals-to-go prepared with locally sourced ingredients. Rooms start at $324 per night (website).
»

The Cove, Eleuthera, Bahamas
[The Cove]
Nestled on the idyllic paradise of Eleuthera Island in the Bahamas, The Cove is a luxurious and tranquil getaway ideal for honeymooners, romantic couples and discerning travelers wanting a private and peaceful escape. Each villa is individually handcrafted to create an intimate and exclusive experience. Airy, elegantly furnished rooms flow out onto wide wooden decks with private plunge pools and magnificent views of the palm-lined beaches, while sea, sun-bleached wood, sculptured stone and delicate shell curtains echo a distinct Bahamian flavor. Award-winning chefs bring an array of exquisite international cuisine to this luxurious island retreat, with an exclusive choice of restaurants offering tastes and flavors from across the globe. For fabulous al fresco dining, Gregory Town Grill serves lavish buffets piled high with fresh local fare from lush tropical fruit and vegetables to succulent seafood pulled straight from the sea. Take long strolls along the sandy shore, explore the marine life on your own private reef or simply lounge by the pool. Rooms start at $339 per night (website).