From haunted hotels to charming guest cottages, New Orleans offers a diverse choice of romantic places to stay. Whether you are planning a quick weekend getaway or a longer visit to explore this historic city, it's a good idea to pick a place with a relaxing outdoor pool deck. Here is our list of best hotels with pools.


»

Hotel Le Marais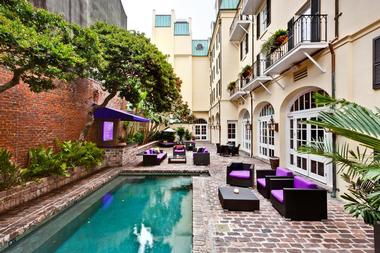 [Hotel Le Marais]
Hotel Le Marais is a stylish boutique hotel with a heated outdoor saltwater pool in the French Quarter. Sip a refreshing cocktail by the pool and enjoy nearby restaurants, art galleries, shopping and Bourbon Street jazz clubs. Guest rooms feature 42 inch flat screen TVs, plush bathrobes and complimentary high-speed wireless internet access. Rooms at Hotel Le Marais start at $149 per night.
»

Bourbon Orleans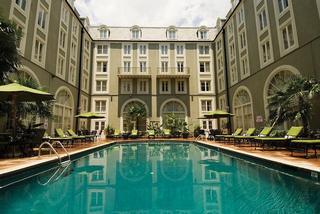 [Bourbon Orleans]
Located in the French Quarter, Bourbon Orleans is a historic getaway located next to two famous landmarks, the St. Louis Cathedral and Jackson Square. The beautifully renovated hotel has a grand lobby, outdoor courtyard with a swimming pool and stylish guest accommodations. Book one of the French Quarter balcony suites on your romantic getaway for best views of the French Quarter. Built on the site of the historic Orleans Ballroom and later a convent, Bourbon Orleans is one of the top haunted hotels in town. Rooms at Bourbon Orleans start at $149 per night.
While staying at Bourbon Orleans, book a table at Roux on Orleans which serves fine contemporary Creole cuisine using fresh seasonal ingredients. Try the Bayou Shrimp Pasta and the Louisiana Fried Shrimp Po'Boy.
»

The Roosevelt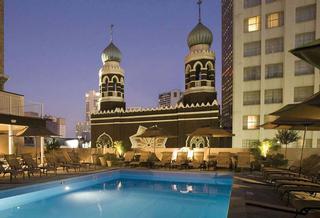 [The Roosevelt]
Relax next to the outdoor pool at the Roosevelt, A Waldorf Astoria Hotel, following a massage at the luxury spa. The Roosevelt New Orleans, originally built in 1893, is located in the business district, near the French Quarter. One of the oldest grand hotels in the country, the property features opulent architecture and grand decor. There are 379 luxury guestrooms and 125 suites, furnished in 1890s style with contemporary flair. If you are a history enthusiast, there are several specialty rooms and suites with claw-foot bathtubs and marble walk-in showers.
The property features two lighted rooftop tennis courts, a heated swimming pool, fitness center, and a beauty salon. Guests enjoy 24 hour room service, writing desk, high-speed internet access, bathrobes, custom bathroom amenities, Sony Playstation, a concierge desk, and other services. The Waldorf Astoria Spa offers a selection of unique treatments. Ballrooms are available for special occasions, as well as 70,000 square feet of meeting space. Rates start from $179 per night. The property is located 13 miles from Louis Armstrong International Airport where you can rent a car. Moreover, the staff can assist with transportation options from the airport (504-648-1200, 1-800-WALDORF, website).
»

Dauphine Orleans Hotel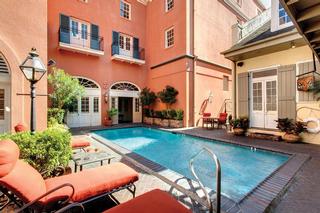 [Dauphine Orleans Hotel]
Bright orange building exterior and matching lounge chair cushions make the outdoor pool deck at Dauphine Orleans a fun place to kick back between shopping and sighseeing trips. Dauphine Orleans is a 111-room boutique hotel in the French Quarter from which you can explore many attractions in the area, including Bourbon Street and the Mississippi riverfront.
Guest rooms are located in the Main House, the Carriage House and the Hermann House. Ask about the Hermann House Suite with an oversized tub and private courtyard views on your romantic getaway. Rooms at Dauphine Orleans start at $129 per night.
»

Hotel Monteleone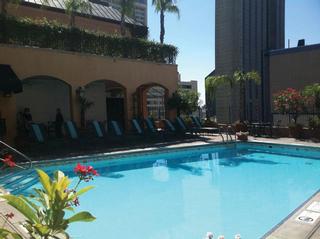 [Hotel Monteleone]
Hotel Monteleone has a stylish outdoor pool deck where you can relax in the sun with a view. Centrally located in the famous French Quarter, Hotel Monteleone is a grand hotel with a sense of tradition. The property is listed on in the National Register of Historic Places. All of the 573 guest rooms feature high ceilings and ornamental moldings. If you are planning to splurge, ask for one of the large Deluxe Rooms with a view of the Mississippi River. The hotel's rooftop pool is heated year-round and offers beautiful views of the city. The fitness center next to the pool has large windows and overlooks the river. A visit to the hotel's famous Carousel Piano Bar is a must. The bar revolves around the room and the ceiling creates an illusion of a night sky. The 25-seat bar is powered by a one-quarter horsepower motor. The bar overlooks the Royal Street in the famous French Quarter. The revolving bar was originally installed in 1949; the current carousel top was added in 1992 during a renovation. The ceiling is laced with fiber optics to create a night sky illusion complete with a shooting star at regular intervals.
If drinking while turning around in a circle is not for you, sit in the adjoining room with live piano music. You may also be interested to know that Vieux Carre Cocktail and The Goody were invented at the Carousel bar. In the city known for its culinary delights, this unique hotel fits in perfectly with its three restaurants, two lounges and the Aft Deck Oyster Bar. If you are planning a family trip to New Orleans, take a look at the special called "All About Kids" which includes: crayons for kids, tickets to the Louisiana Children's Museum and the IMAX theater. The hotel offers many other great packages. The "Girlfriend Getaway" includes: a Cocktail, a tour and a massage (800-535-9595, 504-523-3341, website).
»

Le Pavillon Hotel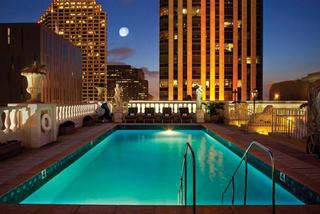 [Le Pavillon Hotel]
Le Pavillon Hotel, located downtown, is a grand hotel with a rooftop pool deck and a health club. The heated pool is open year-round. Rent one of the plush cabanas and relax in the hot tub on your romantic getaway. Le Pavillon Hotel is a historic hotel located near the City Hall and a short walk from the French Quarter. The hotel features a collection of antiques and the largest gas lantern in the United States, which hangs at the front porch. Guests enjoy valet service, 24-hour room service and concierge service. There are 219 guest rooms and 7 suites decorated in individual themes, including plantation home and medieval castle, and feature original artwork and antiques. The Crystal Room serves innovative French Cuisine in a historic setting, complete with high ceilings, ornamental columns and a sparkling chandelier. Room rates start at $169 per night (800-535-9095, website).
»

Auborn Cottages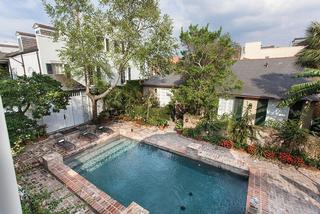 [Auborn Cottages]
The pool at the Auborn Cottages is said to be the oldest pool in the city, featuring original brick floors and iron chaise lounges. Seven newly renovated guest cottages are situated around a romantic saltwater pool deck which is decorated with flowers and trees that provide shade. Cottages start at $300 per night.
»

Windsor Court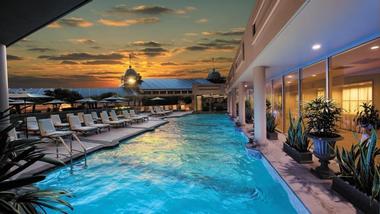 [Windsor Court]
Windsor Court Hotel has a spectacular outdoor pool with city views.
»

Maison DuPuy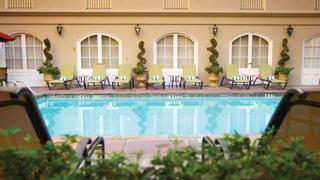 [Maison DuPuy]
Maison DuPuy is a romantic hotel in the French Quarter, located just two blocks from the famous Bourbon Street. The outdoor heated swimming pool is surrounded by lounge chairs and tropical plants. Sit by the pool sipping cocktails and jump in for a refreshing swim. Guests have access to the Personal Touch Program which helps them find the best restaurants, events and activities based on their personal preferences. Rooms at Maison DuPuy start at $116.
»

Royal Sonesta Hotel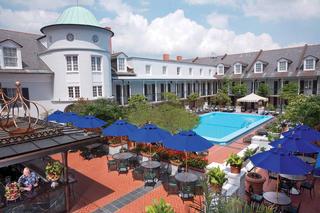 [Royal Sonesta Hotel]
Royal Sonesta Hotel is located on the famous Bourbon Street in the French Quarter. The hotel features European-inspired decor and a choice of romantic rooms and suites. Ask for a Jacuzzi Suite on your romantic vacation and enjoy your own private Jacuzzi. The Split Level Suite with a view of the pool is also a great option. Rooms at Royal Sonesta start at $199 per night.
»

Hyatt French Quarter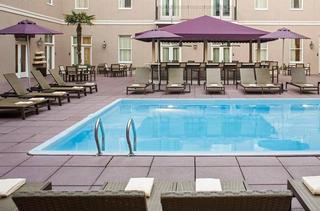 [Hyatt French Quarter]
Hyatt French Quarter is a restored historic hotel with 254 guest rooms featuring 12-foot ceiling and balconies that overlook the historic French Quarter. Rooms at the Hyatt French Quarter start at $295.
»

Omni Royal Orleans Hotel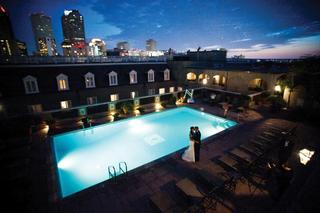 [Omni Royal Orleans Hotel]
Omni Royal Orleans Hotel is a historic French Quarter hotel which was completely renovated, incorporating modern amenities with classic design. The outdoor heated pool and observation deck, open year-round, offers scenic views of the city and the Mississippi River. Rooms start at $299 (omnihotels.com).
New Orleans Vacation Tips
There are many fun things to see and do in New Orleans, whether you are visiting to attend a festival or interested in historic sights.
If you are looking to arrive in the city by boat, Royal Caribbean's Grandeur of the Seas sails on a 7-night journey from New Orleans to Key West, Progresso and Cozumel, Mexico. Royal Caribbean itineraries are available from November to April. Carnival's 1,800-passenger Holiday and the Conquest cruise to the Western Caribbean from New Orleans. For ship itineraries, visit www.carnival.com.
Tour The French Quarter
Laid out in a grid pattern, the French Quarter measures six blocks by 13 blocks. This vibrant neighborhood has world-class restaurants, and authentic Spanish, colonial, and antebellum architecture. Jackson Square is the heart of the French Quarter, featuring the St. Louis Cathedral, a pedestrian mall, and an iron fence where local artists display their art. There are also numerous shops and restaurants.
The famous Bourbon Street is lined with jazz clubs, restaurants, bars and souvenir shops. At night, the street comes alive with music from clubs and crowds of people. During Mardi Gras, Bourbon Street is one of the hotspots. The French Market offers numerous shops, restaurants, a farmer's market and a flea market. Looking for a place to stay? W New Orleans - French Quarter is located on Chartres Street. The Fairmont Hotel New Orleans is also located nearby.
French Quarter Music Festival
Only a few weeks after the world-famous New Orleans Mardi Gras, the city celebrates the French Quarter Fest. The festival takes place for three days in early April. This is Louisiana's largest free music event, attracting 400,000 people to the historic French Quarter. In addition to music, visitors enjoy fireworks over the Mississippi, various children's activities, historic courtyard tours, and music workshops. Great music is accompanied by great food of 80-plus vendors from the city's best restaurants and watering holes. Prices range from $2-$5 per serving. For more information about the the festival, visit www.fqfi.org.
Ride the Historic New Orleans Streetcar
The St. Charles Avenue Streetcar line is a city landmark and the oldest continually operating streetcar line in America. The St. Charles route has been in operation since 1835, initially horse-drawn. The streetcar became powered by electricity at the turn of the century. Many of the cars used today date as far back as 1923, which is one of the reasons the streetcars are now on the National Register of Historic Places. Catch the streetcar on the corner of St. Charles Avenue and Canal Street on the edge of the historic French Quarter. The streetcar fare is $1.25 per person. You will need exact change.
Mardi Gras Tips and Tricks
Mardi Gras is a world-famous festival attracting more than 6 million visitors each year. It happens every year 47 days before Easter. Dozens of parades take place all over metropolitan New Orleans during the festival. Most parades are held the two weeks before Mardi Gras Day. If you are vacationing with your family, stay away from the French Quarter or Canal Street=. Instead, watch the parade along St. Charles Avenue between First Street and Napoleon Avenue.
Mardi Gras World in New Orleans, the largest float designing and building facility in the world, is the place where you can get the feeling of Mardi Gras year-round. Visitors tour the enormous warehouses filled with floats and learn about designing floats. The attraction is located across the Mississippi River from downtown New Orleans. You can catch the free ferry at the base of Canal Street and take the 10-minute ride across the River. Admission is $13.50 for adults, $6.50 for children, and $10.00 for seniors. Guided tours take place from 9:30 am to 4:30 pm and last about one hour. For more information, call 800-362-8213 or visit www.mardigrasworld.com.
Louisiana State Museum
The Louisiana State Museum complex consists of five National Historic Landmarks located in the French Quarter. The Cabildo, built in 1795-99, is the site of the Louisiana Purchase Transfer, located at 701 Chartres St, at Jackson Square. The Presbytere, located at 751 Chartres St., was designed to match the Cabildo. One of the popular exhibits in the Presbytere is Mardi Gras in Louisiana. 1850 House, located at 523 St. Ann St., reproduces the residence of a middle class New Orleans family in the 1800's. Museum items on display include furnishings, clothing and art of the period.
Madame John's Legacy, located at 632 Dumaine St., consists of three buildings: the residence, the kitchen with cook's quarters, and the garconniere. Old U.S. Mint, located at 400 Esplanade Avenue, was built in 1835. It contains an exhibit on New Orleans Jazz, Newcomb pottery, the Historical Center with early French and Spanish records, and more. All five New Orleans Museums are open, Tuesdays through Sunday 9 am to 5 pm. There is an admission fee at each museum. For more information, call 800-568-6968 or visit http://lsm.crt.state.la.us.
Louisiana Children's Museum
Louisiana Children's Museum, located in the Warehouse Arts District, features hands-on exhibits, including the First Adventures area for toddlers, a physics lab, a kid-sized grocery store and a tugboat. Museum hours are as follows: Tuesday - Saturday: 9:30 am - 4:30 pm, Sunday: Noon - 4:30 pm, Monday (Summer Only, from June 9 through August 11, 2003): 9:30 am - 4:30 pm. Closed major holidays. Admission is $6 per person, adults and children. Children under the age of one are admitted free. Adults must accompany children under 16 years. For more information, call 504-523-1357 or visit www.lcm.org. You may also like: Best Las Vegas Resort Pools.