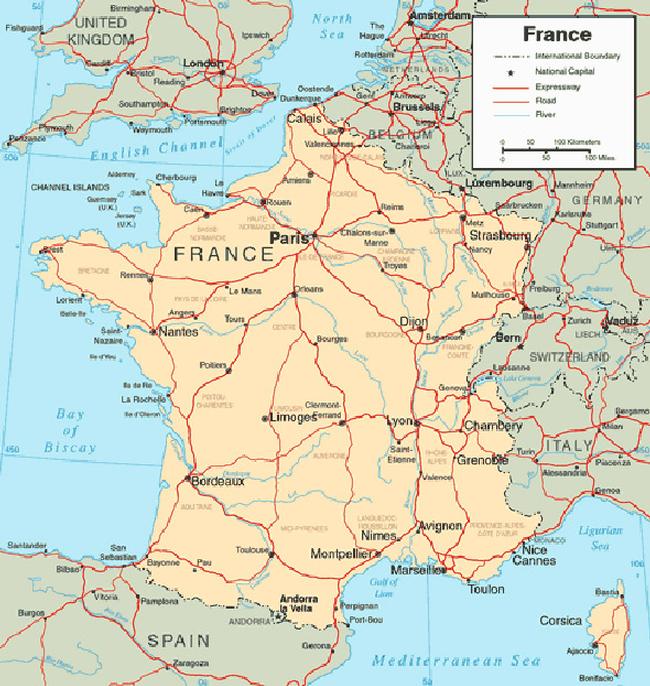 France Map - Places to Visit

This map of France shows the country's neighbors, surrounding bodies of water and major cities. The country is ...
Where to Travel Now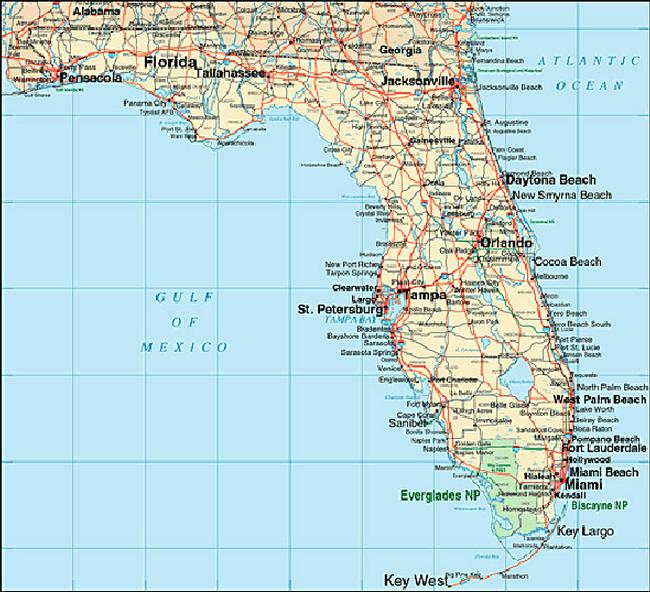 Florida Map - Places to Visit
This map of Florida shows the state in orange, and the bordering states of Alabama and Georgia in darker orange. ...
More Feature Stories
Weekend Getaways

Great Places to Visit
Pierre, SD
Pierre started out as a tiny settlement around 1880 when gold prospectors flooded the area during the Great Dakota Boom. These days, visitors will find a beautiful leafy city offering plenty of indoor and outdoor attractions. The city has several historical buildings you can visit, starting with the impressive South Dakota State Capitol building. To get a better idea of the history of Pierre you can visit the Cultural Heritage Center, the Flaming Fountain Memorial, the South Dakota National Guard Museum and the Upper Pierre Street Historic District.
You can enjoy outdoor pursuits at La Framboise Island and Oahe Dam, or catch a game at Hyde Baseball Stadium.
Jim Thorpe, PA
Situated just 2 hours from New York, Jim Thorpe provides an excellent weekend escape and is particularly lovely during the fall, when magnificent foliage paints a scenic backdrop to the town. There are a few interesting historic buildings to visit including the Asa Packer Mansion Museum, which dates back to 1861, the Old Jail Museum and DeFeo's Manor. For a taste of Jim Thorpe's culture you can tour the Mauch Chunk Opera House and Art Gallery.
You can see the best of the fall foliage from the Lehigh Gorge Scenic Railway, visit the Butterfly Sanctuary or embrace the great outdoors on a Pocono Whitewater adventure or choose a sidecar tour from Jim Thorpe Sidecar Tourz.
Fort Wayne, IN
Spend an interesting and activity-filled weekend exploring the many parks, boulevards, and green spaces that meander through Fort Wayne, linking the various historic parts of the city. You can get some exercise on the 25-mile River greenway Trail or the Indiana River Walk, or go hiking through the Eagle Marsh Nature Preserve. For the less energetic, a simple stroll through the tropical gardens of the Botanical Conservatory is a perfect alternative.
To enjoy some cultural attractions, you can visit the Fort Wayne Museum of Art, Embassy Theatre or the Foellinger Theatre. A visit to one of the many excellent museums or the History Center is both fascinating and educational. Finally, you can satisfy your sweet tooth with a visit to De Brand Fine Chocolates.
Chadds Ford, PN
Chadds Ford is nestled among the vineyards and wineries of the Brandywine Valley, just 25 miles from Philadelphia. In the Historic Center you can find 17 well-preserved historic buildings, and the Historical Society offers tours by enthusiastic costumed guides. A visit to the Brandywine River Museum and Brandywine Battlefield Park will provide a glimpse into the lives of 18th century residents and the chance to relive the famous Battle of Brandywine (1777). Afterwards, you can follow the Brandywine Valley Wine trail to some of the excellent wineries in the area. Chadds Ford is also home to the Wyeth family of artists and there are several galleries and art workshops to visit, including Art Beat for children.
Williamsburg, VA
Wonderful Williamsburg has all the necessary ingredients for an exciting weekend break combining history, architecture, outdoor fun and a vibrant college-town atmosphere. Colonial Williamsburg guards is the home to expertly restored buildings that are over 300 years old, and the streets are lined with guides in period costume to enhance the feeling that you have stepped back in time.
Several historic attractions vie for attention including the Governor's Palace, Jamestown Settlement, Bassett Hall and the Wren Building. Art lovers are spoiled with several excellent visual arts museums and galleries to choose from.
For outdoor fun, visit Busch Gardens Williamsburg and Water Country USA, or go hiking at York River State Park.
Brooklyn, NY
Brooklyn never sleeps, so prepare for an action-packed weekend in this vibrant city. To see the city through the eyes of a local, join a Free Tours by Foot or Brooklyn Unplugged walking tour (alternatively there are Get Up and Ride cycle tours), all of which are designed to show off the best of Brooklyn.
The Historical Society brings old Brooklyn to life, and the Brooklyn Children's Museum offers many hours of hands-on entertainment. The Arts are showcased at the Brooklyn Academy of Music and BRIC Art Media. There are museums for all interests and a stunning selection of restaurants to satisfy even the most discerning palate.
Fayetteville, AR
Fayetteville is home to a pleasing mix of indoor and outdoor activities for singles, couples and families to enjoy on a weekend visit. Sample the fresh air at Wilson Park or take in the lush beauty of the Botanical Garden of the Ozarks, which contains twelve themed gardens and a playground for children. The Walton Arts Center features dance, theater and musical shows, while the Clinton House Museum and the Arkansas Air & Military Museum are both worth a visit.
Fayetteville is home to several craft breweries which you can visit on an Ale Trail, and the Saturday Farmer's Market has been pleasing Foodies for 40 years.
Steamboat Springs
Steamboat Springs is a popular Colorado outdoor destination which also offers some cultural attractions to roundout your visit. Fish Creek Falls has great hiking in the summer and ice-climbing in winter, and Steamboat Ski Resort is famous for fine powder skiing on165 trails, sleigh rides, snowmobiling and more. Get to know some Alaskan Huskies at Grizzle-T Dog Sledding, and after a busy day of hiking or winter sports nothing beats a reviving soak at Strawberry Park Hot Springs.
The Yampa River Botanical Park and River Core Trail are great in summer, and the Steamboat Art Museum and Symphony Orchestra add a touch of culture.
New Orleans
A great place to start your New Orleans weekend is the French Quarter, where you can absorb the unique atmosphere and visit historic buildings, churches, and jazz clubs like Maison Bourbon and The Spotted Cat Music Club. New Orleans is all about music, and the Jazz National Historic Park offers 11-stop guided tours to the most significant historic music venues in town.
Outdoor activities include strolling through the Garden District and Audubon Nature Institute, or perhaps a Kayaking tour with Kayak-iti-Yat. Art lovers should visit New Orleans Museum of Art and The Glassworks and Printmaking Studio, whilefoodies can learn to cook New Orleans style at the New Orleans School of Cooking. To work off some calories you can go on a FreeWheelin' Bike Tour.
Pigeon Forge, TN
If you are looking for an entertaining weekend destination for the family in Tennessee, Pigeon Forge is hard to beat. The town successfully combines amusement parks with interesting museums and historic attractions to provide something for everyone. Guests can start off at Dollywood, a family theme park owned by Dolly Parton, before moving on to the Titanic Museum for a self-guided tour of a replica of the ill-fated ship. The Hollywood Wax Museum and the Elvis Presley Museum provide hours of family fun and the Old Mill area has great shopping and dining. For more outdoor adventure you can head to Smoky Mountain Ziplines and ZiplineCanopy Tours.
Juneau
Juneau is a popular destination for adventure seekers and showcases several unique attractions for visitors. Hikers love the 250 miles of trails which take in some amazing scenery including glaciers and waterfalls. The list of adventure activities is almost endless, including helicopter flightswith Era or Coastal Helicopters, small boat tours for whale watching, Glacier Photo Safaris, zip-line tours and even bear watching tours. You can visit the DIPAC Salmon Hatchery, the Sealaska Heritage Institute, the Alaska State Museum, the Last Chance Mining Museum and the State Capitol Building. For foodies there are brewery tours and many restaurants serving some of the best and freshest seafood in America.
Vancouver, WA
Historic Vancouver is one of the oldest cities in Washington and is filled to the brim with entertaining attractions for visitors, including historical sites, museums and plenty of outdoor fun. You can enjoy exhilarating hikes up Mount St. Helens or Beacon Rock, or choose to walk, jog or cycle the Waterfront Renaissance Trail and Captain William Clark Park at Cottonwood Beach.
If you love history you should head to Clarke County Historical Museum, Officer's Row (22 beautifully restored 19th century homes) and the Pearson Air Museum. Food and Wine lovers flock to the Vancouver Farmers Market and Burnt Bridge Cellars for fresh food, wine tastings and live entertainment.
Rehoboth Beach
Plan a getaway to lovely Rehoboth Beach in Delaware, where 30 miles of coastline with activities for the whole family await you. Rehoboth Beach and Boardwalk is the pulsating heart of the city, lined with beach cottages, intriguing local shops and many attractions.
Unsurprisingly, the emphasis here is on fun in the sun; Jungle Jim's River Safari Water Park is a favorite with children, while at DelMarVa Board Sport Adventures you can learn to paddle and wind surf. There is good hiking at Gordons Pond and Breakwater Trail. Round off your busy day with an Eating Rehoboth Walking Food Tour and a show at the Clear Space Theatre Company.
Rochester, NY
Look forward to a non-stop weekend of family fun and adventure in Rochester, New York. The city is renowned for its festivals, wineries, breweries, parks and golf courses, and you will never have a dull moment. You could spend a full day at The Strong National Museum of Play, an amazing children's museum featuring 150,000 square feet devoted to playing. Everyone will enjoy the innovative Museum and Science Center and the RMSC Strasenburgh Planetarium. The City Ballet, Geva Theatre Center, Rochester Philharmonic, Artisan Works and the Memorial Art Gallery cater to those who love the arts. There are also several museums, the Seneca Park Zoo, beer and wine tours and the Seabreeze Amusement Park.
Lakeland, FL
As the name suggests, Lakeland boasts an array of great outdoor areas offering many attractions for visitors. Hikers and cyclists have an abundance of trails to follow in Circle B Bar Reserve, Lake Mirror Park, Lake Hollingsworth, Saddle Creek Park, Holloway Park and Colt Creek State Park, all of which are also great for picnics and bird watching. The lakes offer good fishing, and Safari Wilderness Ranch is great for wildlife viewing. The Florida Air Museum will thrill flight enthusiasts, and for art lovers there is the Polk Museum of Art. Children can have fun at Explorations V Children's Museum and pick berries at Lakeland Berries at Shady Oaks Farm.
Cape Canaveral, FL
The entire family will enjoy the many educational and fun attractions of Cape Canaveral, which range from rocket science to sea-side relaxation. The Kennedy Space Center is the starting point for most visitors and if you are lucky you may see an actual live rocket launch; if not, enjoy viewing the Atlantis Shuttle and other fascinating space exhibits.
Exploration Tower is equally interesting, and then there is the U.S. Space and Missile Museum. The beaches are great, and you can go on a deep sea fishing excursion or a Dolphin viewing tour, take surfing lessons, or try a Segway or Limo Cycle tour. Round off the day with mini-golf among the (real) alligators at Golf N Gator.
Lancaster, PA
Plan an interesting and informative break in Lancaster, Pennsylvania, where historic attractions, markets, and tours vie for your attention. Historic Central Market is the oldest farmer's market in the US and serves up some really unique local foods, and at the Amish Farm and House you can learn all about Amish life and culture. Art lovers will want to visit the Phillips Museum of Art (which includes a sculpture trail), or the Marionette Theatre, Fulton Theatre or the American Music Theatre.
Children can enjoy lots of fun at the Hands-On House Children's Museum and plenty of rides at Dutch Wonderland or the Caribbean Indoor Water Park. Catch a show at Dutch Apple Dinner Theatre to round off the day.
Bismarck, ND
Bismarck in North Dakota has something for everyone to enjoy during a weekend break. One of the best places to start is the observation deck of the most prominent landmark, the Art-Deco Capitol Building, from which you will get a bird's eye view of the city. Back on ground level, you can visit the Northern Lights Atrium which houses the interesting Heritage Center and the North Dakota State Museum.
Art lovers will enjoy touring the Downtown Artists Cooperative (featuring local artists), the Art Gallerie on Main and the Visual Arts Center. For outdoor family fun you can enjoy a splashing good time at McDowell Dam or SuperSlide Water Park.
Gettysburg, PA
Gettysburg is where the deadliest battle of the Civil War was fought in 1863, and the entire town is steeped in history. You can learn all about Gettysburg on the Battlefield Bus Tour, a Segway Tour, a Cornerstone Farm Horse-back tour or a walking tour of the most important sites.
A few of the places you can visit on a tour include the National Cemetery (final resting place of 3,500 Union soldiers), the Museum of History, Seminary Ridge Museum, the Gettysburg Diorama and the Jennie Wade House. The Lincoln Train Museum, Railroad Station Museum, Gibson's Photographic Gallery and Savor Gettysburg Food Tours provide a little light relief from all the history.
Burlington, VT
Burlington hugs the shores of Lake Champlain in Vermont and offers a host of interesting attractions, with an emphasis on food and the arts. The Fleming Museum of Art, Frog Hollow Craft Center and Burlington City Arts Center will please art lovers, while The ECHO Lake Aquarium and Science Center has interactive and educational exhibits for all ages. If you love the performing arts the Flynn Center is the place to go.
Foodies will be salivating on the Burlington Edible History Tour, the Saturday Farmer's Market and at Lake Champlain Chocolates. North Beach Park offers outdoor enthusiasts a variety of water sports and cycling trails.
Pittsburgh, PA
Pittsburgh has all the right ingredients for an entertaining weekend, including famous museums, outdoor activities, great restaurants and good theater. Some of the must-see attractions include the Carnegie Museum of Art, (which showcases a wide spectrum of art-forms), the Carnegie Natural History Museum (don't miss the famous dinosaur exhibit), the Pittsburgh Zoo and Aquarium and the Carnegie Science Center, all of which will entertain you for hours.
Outdoor attractions include Schenley Park and Frick Park, both of which offer a variety of trails and sporting facilities. Round off your busy day with a 'Burgh Bits & Bites Food Tour or enjoy the Pittsburgh Symphony Orchestra at Heinz Hall.
Holland, MI
Get ready to see an authentic 250-year-old working Dutch Windmill and visit a reproduction of a Dutch village in Holland, Michigan. The city has a strong Dutch heritage to explore, starting with Windmill Island Gardens, which features an old windmill set among thousands of tulips. At Nelis' Dutch Village you can try out wooden clogs and admire old Dutch architecture, while Veldheer Tulip Garden and the Holland Museum further enhance the experience.
Outdoor activities abound in Kollen Park, Heinz Waterfront Walkway, Tunnel Park (a unique park that goes through a sand dune), and Laketown Beach. There are good museums, art and theater, and foodies can visit several breweries or go on a food tour.
Erie, PA
Erie offers visitors a sophisticated and interesting variety of activities to fill a weekend. Presque Isle State Park juts out into Lake Erie offering walking and hiking trails, swimming and boating. More outdoor fun can be found at Waldameer Water World, Splash Lagoon or at Asbury Woods Nature Center and the Erie Zoo and the Buffalo and Erie County Botanical Gardens.
There are several good museums and galleries to visit, starting with the Maritime Museum, the Erie Art Museum, the Experience Children's Museum (which features many hands-on exhibits) and the Firefighters Historical Museum. The arts are very well represented by the Erie Philharmonic, Mercyhurst Institute for Arts and Culture, Erie Playhouse and All an Act Theatre productions.
Tulsa, OK
Tulsa is the ideal Oklahoma destination for an interesting metropolitan break, offering visitors a variety of attractions with a distinct emphasis on the arts. The Philbrook Museum of Art and the Gilcrease Museum are both set in wonderful gardens you can explore after you have viewed their excellent art collections. Music lovers can head to the Jazz Hall of Fame and the Woody Guthrie Center in the lively Brady Arts District, which is also where you will find 108 Contemporary, a museum dedicated to contemporary crafts.
For some outdoor fun you can visit the Tulsa Zoo, or stroll through the Woodward Park and Gardens Historic District, which will delight all nature lovers.
Anchorage
Anchorage, Alaska is a very beautiful city which offers some really unique outdoor attractions. You can learn about the origins of the city at the Anchorage Museum and the Alaska Museum of Science and Nature, before setting off to see some Alaskan wildlife at the Wildlife Conservation Center and Anchorage Coastal Wildlife Refuge. You can go on a Glacier Cruise and Tour to get up close to Portage Glacier, or take in all the scenic splendor of Alaska on the luxury Glacier Discovery Train. Avid photographers should consider a day or two long Alaska Photo Trek. Children will enjoy Valley of the Moon Park and the Alaska Zoo.
West Palm Beach, FL
Sunny skies and reliably good weather, together with a huge array of cultural activities, make West Palm Beach a favorite weekend destination. Art enthusiasts can enjoy the Norton Museum of Art, the Ann Norton Sculpture Gardens, Arthouse 429 and the charming Antique Row Art & Design District.
You can go hiking and bird watching at Grassy Waters Nature Preserve, learn scuba diving or have fun racing around the swamplands on a West Palm Beach Airboat Ride. Children will enjoy hours of fun at South Florida Science Center and Aquarium, Palm Beach Zoo and Rapids Water Park. Vintage car enthusiasts should not miss Ragtops Motorcars automobile museum, and foodies should try a Taste History Culinary Tour.
Wilmington, DE
You can look forward to spending an enlightening and active weekend in Wilmington, Delaware, where culture and outdoor pursuits go hand-in-hand. Brandywine Creek and Bellevue State Parks are both attractive green spaces where you can enjoy hiking, cycling and fishing. The city has good museums to interest everyone including the Delaware Museum of Natural History, the Delaware Art Museum and the Delaware Children's Museum.
There are several historical buildings to visit including Nemours Mansion and Gardens, the opulent former home of the du Pont family.
You can keep the children happily absorbed at the Delaware Children's Theatre, the Russell Peterson Wildlife Refuge and Brandywine Zoo.
Kennett Square, PA
Fondly referred to as the Mushroom Capital of the World, Kennett Square will surprise you with a good selection of weekend activities. You can get an overview of the town on the Historic Kennett Square Walking Tour, before visiting the lovely Anson B. Nixon Park - a perfect place to enjoy walking, fishing and picnics. Longwood Gardens (founded by Pierre S. du Pont) covers an amazing 1,000 acres of beautiful themed gardens to delight the senses.
Foodies will enjoy a visit to The Mushroom Cap where they can learn about mushroom farming and buy unique products. Taste Kennett Food Tours enable you to sample the city's diverse cuisine, and there are also several wineries that offer tastings.
Salem, OR
Salem boasts a great combination of history, culture, and arts, making it an ideal weekend destination in the Willamette Valley in Oregon. Energetic visitors can climb 121 steps to the top of the impressive Oregon State Capitol to admire the beautiful grounds and fountains before setting off to visit some of the excellent museums in the town. The Hallie Ford Museum of Art, the Reed Opera House and Elsinore Theatre are popular with art enthusiasts, while history buffs can visit the Willamette Heritage Center and Deepwood Museum & Gardens.
There are also plenty of family friendly activities, starting with the Riverfront Carousel, the Enchanted Forest Theme Park and Gilbert House Children's Museum.
Spokane, WA
Boasting beautiful green spaces and many unusual activities, Spokane, Washington is an ideal weekend destination for the whole family. You can explore Riverfront Park from the scenic Spokane Falls SkyRide, or enjoy hiking though lovely conservation areas. Other great outdoor attractions include the John A. Finch Arboretum, Manito Park, Riverside State Park and the Centennial Trail. Adventurous visitors can try a Mica Moon Zip Tour or go river rafting with the ROW Adventure Center.
The Northwest Museum of Arts & Culture will dazzle art lovers, and music enthusiasts can attend the Spokane Symphony at the beautiful and historic art deco Martin Woldson Theater at The Fox.
Top