British Virgin Islands
Next Read
Katitche Point Greathouse in the British Virgin Islands is a luxury villa getaway with four guest suites ...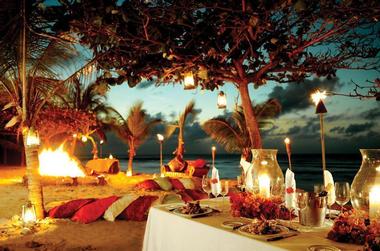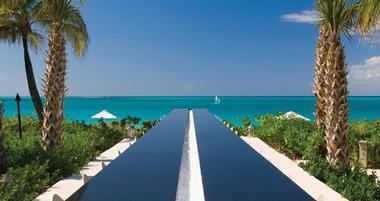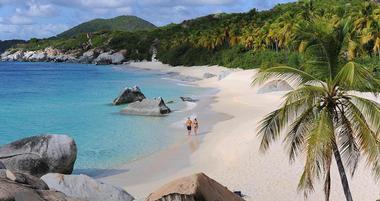 British Virgin Islands Vacation Ideas
British Virgin Islands - Tips for Travelers
Activities in the British Virgin Islands include beach combing, fishing, sailing, visiting national parks, horseback riding, hiking, historic ruins, sunbathing, snorkeling, shopping, museums and swimming in the Caribbean Sea.
Easter celebrations include colorful parades, great food and dancing. On Virgin Gorda, Easter weekend includes the calypso monarch competition parade, queen show and nightly village entertainment. Throughout the year, you can find jazz and other festivals on the islands.
Summers are a great time to visit with kids when they are not in school. You can plan a longer getaway and have a family reunion, creating memories that will last you a lifetime.
Where to Stay
Bitter End Yacht Club is fantastic for sailing enthusiasts because of the resort's complimentary fleet of water craft. Peter Island and Guana Island are private and secluded - you won't have to share the place with any other guests.
Little Dix Bay is a beautiful luxury hotel with stylish accommodations. Necker Island frequently receives media coverage because it is owned by Sir Richard Branson. Many hotels and resorts offer beach and other packages.
Getting There
The easiest available way to get there is via San Juan, Puerto Rico. Terrence B. Lettsome Airport (EIS) located on Beef Island is linked to Tortola by the Queen Elizabeth II Bridge. All flights must connect through another Caribbean airport such as San Juan, St. Thomas, Antigua, St. Kitts or St. Maarten/St. Martin.
Some of the more remote resorts, like the Bitter End Yacht Club can only be reached by boat, so make sure that you know all the details of how to get to your resort. Usually the hotel will meet you at the airport.
The islands are great to visit throughout the year. Book early during the holidays because hotels get very busy.
Remember to pack hat for protection from the sun. Plenty of sunscreen, and a digital camera. If you are planning to scuba dive or fish, it's a good idea to reserve ahead of time, especially in the summer and during the holidays. Pick a hotel with an on-site dive shop, especially if you would like to get certified.
Visiting National Parks
The Baths National Parks in Virgin Gorda offer visitors pristine beaches and magnificent scenery. Established in 1990, the heart of the park are the Baths, huge granite boulders 40 feet in diameter on the edge of the beach. Devil's Bay is also part of the park. You can reach the bay by climbing the ladders hanging from the huge boulders. Spring Bay is a beautiful scenic spot.
Deals and Packages in the BVI
The BVI are comprised of 60 smaller islands, known for their spectacular beaches, incredible scuba diving and snorkeling. hoose from great deals and packages in Tortola, the largest island in the BVI, explore the second largest, Virgin Gorda, or check into one of the private island resorts. Deals include room discounts and vacation package offers, including great activities and gourmet dining. Look for deeper discounts in the summer months and expect to pay a bit more in the winter.
Save 35% on a Private Island: Save 35% at Peter Island Resort when you book a Hawk's Nest, Crow's Nest, or Falcon's Nest Villa. In addition to this special, the resort if offering 7 nights for the price of 6; 5 nights for the price of 4 in a luxury villa; and seven nights for the price of five in the summer. You can find this resort on our list of the 10 World's Most Romantic Private Islands.
Save 20% at Long Bay Beach Club: The newly renovated Long Bay Beach Club in Tortola, BVI is offering 20% off regular rates on certain dates. Stay in a stylish room or suite just steps from the clear blue Caribbean sea. The resort offers several great packages for longer stays, including a 5 Night All-Inclusive Package which includes: Cabana, Three-Day car rental, Breakfast, Lunch, & Dinner. Rates start at $250 per person per night (longbay.com, 866.237.3491).
20% Off at the Sugar Mill Hotel: The Sugar Mill Hotel in Tortola is offering 20% Off Regular Rates on certain dates. The Sugar Mill has a beach with a natural reef, a round pool and just 23 luxury guest rooms surrounded by tropical gardens. Regular room rates start at $250 ($200 after the 20% discount). For more, visit the hotel web site sugarmillhotel.com or call 284-495-4355, 800-462-8834.
Rooms from $75 at Sebastian's On the Beach: Sebastian's On the Beach Hotel & Restaurant on Tortola's North Shore offers affordable accommodations on the beach starting at just $75 per night. The hotel has a scenic beachfront restaurant where you can dine with views of the Caribbean Sea (sebastiansbvi.com, 284-495-4212, 800-336-4870).